From Silicon Valley to The World – becoming a Digital Nomad in a new world of constant change
Meet The Nomads is a series of interviews where we share life stories about people travelling and working around the world from all walks of business and life. So here is just a little background to how we came about meeting Alex…
Last year Lena, the Nomad Stays, Community Stays Manager, was invited to go to Tbilisi, Georgia to stay a few weeks by a Nomad Stays Lokal (see her interview here) with the dynamic Candy, the owner of a coliving and coworking space. On that journey, Lena met a dynamic Alex Salinsky who I was lucky enough to interview.  An experienced nomad who you definitely want to meet and couldn't wait to introduce you to him too.
If you prefer to watch the interview rather than read the transcript, then here it is:

Alex Salinsky is straight from the valley to the world, as a digital nomad. He's the founder o Tech and Startups on YouTube. He has a Consulting business helping startups automate their business.
During the interview, Alex shares how he went from the traditional work environment to digital nomad life and some of his favourite travel stories and the best way he has found to stay connected to people in real life whilst working digitally!
Alright, I will let you in on a bit of a secret, I probably need to fill you in. I am Jemma a digital Marketing intern for Nomad Stays and I was given the opportunity to interview my first Instagram live interview and it was Alex! I wouldn't be luckier! I scored! Thank you, Alex!
Introduction to Alex

At the time of the chat with Alex, he joined us from Colombia. Alex has a consultancy that grows companies from the inside, and he enables and assists in structuring startup business founders to Automate their businesses.
Being a curious one; I asked Alex to dive in and give us some juicy insights of what it is like to go from traditional work-life to digital nomad so here goes! Because in my mind you have to give stuff up, family, friends, networks, and maybe even love, if they are not positioned to travel. It all sounds scary and exciting so I was busting to understand more.
I began by asking…
Q: What led you into the nomad lifestyle?
A: I think like a lot of us it's to travel the world and explore a little bit is that dream that seemed like we couldn't do it, or we had to wait for the right time. And I just got to a point where I was done waiting, it was time to go try it out! I tried a few little experiments; a week at my brother's place, a week at my sister's, a month abroad, and then back. Slowly just build up that confidence that I could be out in the world.
Q: How was the transition from the 'traditional work' environment to that of the digital nomad lifestyle?
A: I had about a 10-year career in Silicon Valley (California) working in offices and so it was a little different. And I started this (the transition into being a digital nomad) before the pandemic, so the transition to nomad life was initially strange. But I started with the normal offices I was working with and negotiated for working remotely 1 or 2 days a week and that way I learned how to work outside of the office and how to communicate that I was being productive and successful outside of the office. It's funny because I think some people transition quickly, some people have never had a corporate job, and they just get out there, some people just quit their job and go on a long sabbatical and try to find remote work. I had this much slower transition of being in the office and slowly got out a couple days a week and then when to the next job and I ended up just kinda going, 'I think I work remotely now' and they agreed.
Q: Do you feel like you have more of a work/life balance now that you do more remote work and are more in control of what you do?
A: I think it's a dangerous thing because now I'm in charge of my own business. Before there were commitments, the day starts at X hours and ends at Y hours but now I can end up working for 12 hours if I like. So, if there is going to be a work/life balance then I have to be the one to maintain it, so in some ways, the freedom makes it harder to maintain the work/life balance. I just have to be even more conscious of it than I was in the past.
Q: How do you stay connected and meet up with people in real life as you're travelling around?
A: It's a good question. I have a couple of strategies for that. One of them is as I meet people, I really like to keep in touch with them, so we connect on Instagram or WhatsApp and I kind of go through the last month of messages every now and then and go 'Oh, I haven't talked to that person in a while I should talk to them. So that's one way. One strategy which I have is whenever I'm going to a new place, I love to start the adventure with the conference. It could be a nomad conference; I just did Nomad Base in Playa del Carmen and was a speaker there. Then the crew stayed around for a couple weeks and then popped over the other side of Mexico, in Puerto Escondido and so in that way that was helpful but even traditional conferences. So, my second time coming to Columbia I started that trip with a user experience conference, and I was a volunteer there I actually have a trick in which I make a reservation for the last night of the conference at a cool restaurant for eight people and so the goal was to meet enough people to invite them to all have dinner together. We ended up having a table of 14 so almost double the reservation and so in that way I'm building up a network.  A friend of mine, and this is probably the easiest way to do the same thing, all over the place there are free city tours, and you can look them up and what a great thing to do in the first one or two days because you meet other people who are passing through and who are travelling. I love that way of meeting people.

Q: What has been your favourite travel story?
A: WOW! When I was just starting out; I think about this sometimes, I know Spanish now, but I went to Chile about 3 years ago when I didn't learn Spanish. I was trying to go surfing, and I had lost my phone so I didn't have a connection, so when I left my hotel I asked "I'm going to surf in this other town what do I do?" and the person at the desk just said, "You just catch that bus other there, just get on the bus!" I thought, great I'm just going to catch that bus and then, being so used to having a phone in my pocket all the time, I forgot that I don't actually know where the place is, and I can't check my maps to see if we're close, I don't speak Spanish, and everyone on this local bus speaks Spanish. I didn't know how it was going to work. See his short video on this part of the interview here.
Luckily, I did know French and I had learned that there are a lot of people in Chile that are from Haiti and so someone got on the bus and sat next to me, and I thought "maybe this person is from Haiti". I tried to speak to that person in French and asked if he was from Haiti and he was! And he knew some Spanish! So, I asked him if he could talk to the bus driver about finding the surf school and within about 5 minutes, the whole bus had their eye out the window looking for the surf school for me. I had a great lesson that day.
Q: Where do you want to go next?
A: So, I usually don't know the answer to this but for once I have a little bit planned out! I'll be in Colombia for a few more weeks and then I'm going to see some great friends in another part of Colombia. Then I'm on my way to the Nomad Base conference in Croatia. After that … I haven't decided yet, maybe visit part of Italy… But then I plan to head back to America and do a summer road trip through the US and see family and friends.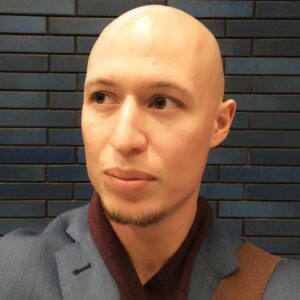 Find out more about Alex and how he helps startups.
Adventure on and Stay awesome! (maybe even with a Nomad Stays!!) Ok that was a sneaky plug!