Solo Female Software Developer Travelling While Working Remotely – Meet The nomads
Meet the Travelling Tay!
We interview the Nomads so that you can meet people from around the world from all walks of life to see how they live a life on the road as a full-time travellers. If you prefer to watch the video interview here it is:
Meet the Nomads brings you the Travelling Tay
WHERE ARE YOU RIGHT NOW?
I'm in Palomino, Colombia right now. It's really nice, the weather is perfect.
INTRODUCE YOURSELF
My name's Taylor, right now I'm taking a bit of a career gap. So I was doing remote work as a software developer, and now I'm travelling, doing full-time and a bit of travel blogging. Just enjoying myself before I start working again in a couple months.
WHEN DID YOU DECIDE YOU WANTED TO BE A NOMAD?
I'd say the pandemic definitely contributed, so I was working remotely pretty much the entire time, and the whole time I was just focusing on if I could travel because none of us really could for a bit. I realised you could do your work from wherever in the world. Primarily, I work in software, so I work on my computer. I realised there was no reason for me to be in a city I didn't love, and I could go as I pleased. I have a passion for travel so it kind of felt perfect.
HOW LONG HAVE YOU BEEN TRAVELLING FOR AS A NOMAD?
Since September 2021. Not a super long time. I started remote working in March 2020 and was remote working that whole time. I periodically was at different places, I was at the beach for a couple months but in terms of being on the road with just a backpack, ever since September, yeah.
HOW DID YOU ADJUST TO THE NOMAD LIFESTYLE?
It's very different, especially between travelling typically and travelling like this. You have to make sure you have really good wifi, you have to have more space and I'm not used to that with travelling. I'm used to going wherever I want, doing whatever I please. It takes a little bit more scoping out the places, I guess which is why Nomad Stays is excellent. And a little bit more self-motivation, you're not having your alarm clock ring at the same time every day when you're in bed. You're somewhere new.
WHERE HAVE YOU TRAVELLED SO FAR?
So I started, actually, in Europe. I was in Greece, then Turkey and also Georgia. Then I went home for the holidays for a bit, Covid was getting kind of bad, and I had a bit of a break. So now I'm doing South America; I did Peru, Ecuador, then Colombia.
ARE YOU PLANNING TO STAY IN South America FOR A WHILE?
I'm planning to stay for at least a little bit, so I'm here for another month, then I have to go home to handle a couple things. Then after that, I'll probably go to Mexico for the summer. But nothing is set in stone, I guess that's the benefit of all this.
WHAT ARE YOUR MAIN TIPS FOR TRAVELLING ON A BUDGET?
The number one tip, I think, is definitely being flexible with your time. So, if you pick exact dates, you're never gonna get an excellent price on your flights or sometimes your accommodation, things like that. Just kind of add a lot of flexibility.
The second is cooking your own food when you can. It's so tempting to eat out, but it's exhausting. No one wants to eat out for six months straight.
Kind of like pretending you're at home, you don't have to do a huge activity every day, you don't have to eat out every day, do what you would do if you are in your own home doing your own thing. Especially treat the weekends like they're weekends. If you treat it like a vacation, it will get really expensive really fast, and you'll be really tired too.
IS IT DIFFICULT TO STEP IN AND OUT OF THE WORK MINDSET?
Yeah, definitely. I think you need to compartmentalise it a little bit. There's a lot of times where your friends will be off doing something and you wanna go and you have to take the mental step back and be like 'no I'm gonna stay in today, I'm gonna get some work done. Because again, you can't always be on vacation, and sometimes it's not fun. You meet really cool people and you wanna go with them. Also sometimes you break the rules and you go with them anyway, you've kinda got to know when to go and when to not.
WHAT HAS BEEN YOUR FAVOURITE PART OF BEING A DIGITAL NOMAD SO FAR?
My favourite part has been the flexibility to kind of stay in places for an extended amount of time. I used to do shorter trips, maybe a week-long you're just rushing from city to city, country to country, maybe 3 days in each place. Whereas now, I'm like a minimum of a week, if I stay in one place, or like Colombia, I'm gonna be here for two months. Whereas before I would've never had that flexibility or that opportunity. That's definitely my favourite part, the ability to extend your time and take your time.
DO YOU FIND IT DIFFICULT TO IMMERSE YOURSELF IN SO MANY CULTURES?
Yeah, it takes a lot of flexibility, I think, and open-mindedness. The first week anywhere is always a bit more difficult getting used to the local language and the local culture, and figuring out how things work. But you kind of just has to go with the flow. I think it's a lot easier in South America, while the cultures are very different between countries, you at least have generally the same language, which helps a tone. I think the language part is always the hardest when going to new places. So that makes South America a bit easier for me for long-term travelling.
DO YOU KNOW ANY OTHER LANGUAGES?
No, I know a little bit of Spanish. I'm taking classes while I'm here, in Colombia, which is helping a lot.
IS WILDLIFE SOMETHING YOU LOOK FOR WHEN YOU PLAN WHERE TO GO NEXT?
That's something really new for me; I try to step out of my comfort zone. I've never really been a wildlife person, I love pets, but I've never been around enough. I thought it would be fun, something new. So I'd never seemed that out before, but now that I've been there, I think I'm going to seek it out forever because the wildlife there was so incredible.
WHAT WAS THE BEST ANIMAL THAT YOU SAW THERE?
I think the best was the giant tortoises. They're genuinely like, if you curled up into a ball, they would still be bigger than you. It was absolutely insane to see them, it kind of felt like looking at a dinosaur. It was so much better than anything I've ever seen before.
WHAT ARE YOU PLANNING NEXT, CAREER-WISE?
My next big step is, after I'm done travelling a bit in between work, I'm gonna get a different remote job. I'm thinking of a remote 9-5. Although the time flexibility could be better, it's just so reliable, but still allows you to travel for a bit. So that's my next step, for sure, going back a little bit corporate. Having a more steady income, which would be really nice. Once you travel a lot for a long time, a routine is actually lovely.
DO YOU FEEL LIKE YOU GET OVERWHELMED SOMETIMES WHEN YOU TRAVEL TOO MUCH?
Yeah, especially when I move around to many places like I always feel better if I stay in a place, a city, for at least a week for something. Then you don't get as overwhelmed so fast. But if I do like 3days and 3 days it can add up quickly.
WHAT ARE YOUR TIPS FOR TRAVELLING AS A SOLO FEMALE TRAVELLER?
Number one is to always plan what you're going to do next. So I'm always going to look up the bus route, I'm gonna have it mapped out on my phone. I'm gonna have a SIM card, so I stay connected. I think as a female traveller you have to take some precautions and make sure that you are always connected, have a reliable cell signal, and have a plan.
Another thing that I do is I have my location always shared with my mom and my boyfriend, so people know where I am. So that gives me a little bit of peace of mind. That helps a lot.
Also just do your research. Make sure you're going to a place that's fairly safe, you can stay at a hostel; a lot of other solo-female travellers leave good reviews and think it's safe there.
Once you do that, travelling as a solo female doesn't feel dangerous, it doesn't feel unsafe. Just do a little bit of research and I think you're good.
DO YOU FIND IT HARD TO KEEP YOUR CONNECTIONS WITH YOUR FAMILY AS YOU'RE TRAVELLING?
Yeah, it can be pretty tricky. Especially if I don't have a good wifi connection or if the time zones are different. I'm lucky right now that in South America, we're in almost the same time zone, so that's been really, really helpful and reasonable. Versus when I'm in Europe, it's so easy to lose that connection because as I wanna text them, they're asleep, or vice-versa. So it's often just like sending a text out into the universe, and then when I wake up hopefully I'll have a response. Things like that.
DO YOU BUILD A COMMUNITY AS YOU TRAVEL, HAVE YOU PICKED UP FRIENDS ALONG THE WAY?
Oh absolutely! I feel like I haven't been alone for more than a day or two the whole time I've travelled. You meet so many friends along the way, and I often end up travelling with them. I ended up travelling with one of my friends for almost two months back in Europe. We just met randomly in Greece. Even now, I've been travelling on and off with another friend for about a month. So it's honestly incredible, you meet people and it's so much more social than when you're at home. You just decide, like oh I met you one day let's go to this the next day. It's really, really helpful. It also makes you feel safe as a solo female traveller, having a group.
HOW DO YOU MEET PEOPLE?
I meet a lot of people through hostels, I think they're very social and very good, very sociable. Even if you are not staying at the hostel you can always go there to meet people, which I think is super, super-nice, hostels are inherently social, so that's really my number one way.
I've also met a lot of friends just through walking tours or on day trips to places. And on those, you have to put yourself out there a little bit. If you see someone alone or just with one friend that looks like they're cool, just go up to them and talk to them.
But those are kind of my best ways, like putting yourself out there, but I think hostels are always a really helpful way to meet people.
WERE YOU ALWAYS A SOCIAL PERSON, OR IS IT SOMETHING YOU'VE LEARNT?
I don't think I've always been very social, definitely a little bit, but not super outgoing growing up. I definitely had to put myself out there when I started travelling around, I've been in hostels since I was about 18. Since then I've grown tremendously. Like at this point, I would go up to someone sitting alone in a restaurant and say hi to them or things like that. Whereas before, I would never do that.
ANY MORE TIPS OR ADVICE?
The number one thing is having that flexibility, not only with time but with expectations. Sometimes with wifi isn't gonna be great, sometimes you're gonna be somewhere and, I don't know, the bus might be late, things might happen. So you have to kind of have a little bit of a chill and relaxed mindset and not get overwhelmed when things go wrong, kind of go with the flow. Because when you're travelling, again, you don't have that routine of home, you don't have all the luxuries there, so things can change really quick.
And the second is more about being social, putting yourself out there. Even when you're not in a great mood and you just wanna be alone, sitting with someone else at dinner, doing things like that. Because the social aspect of travel is definitely my favourite.
My favourite cities are not because the city was great, it's always because I met someone really nice in that city, and I went travelling with them, or a group of people.
ARE THERE ANY PLACES LIKE THAT WHERE YOU WOULD GO BACK?
I think the Greek Islands is a top one for me. I met so many really awesome people there, it has a really nice backpacker and remote work scene. Everyone's just so social. Yeah especially the smaller islands that aren't as well known, they're huge.
DO YOU DO A LOT OF BACKPACKING?
Yeah, I do a lot of backpacking, I'm technically backpacking right now. I think I prefer it that way, but I think as I grow older and do more remote work, I'll definitely be more in co-working spaces, Nomad Stays, AirBnb's, things like that. Right now I don't mind this, saving some money, so it's been nice.
That's a wrap with the lovely Travelling Tay! You can follow Tayor on Instagram and find her on LinkedIn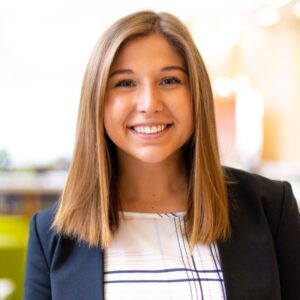 We hope you enjoyed meeting the nomads, and we hope you are inspired by the stories so that you can stop dreaming about it and go for it.
Adventure on and Stay awesome!