"The Future of Travel" 02.9.20
Mark Phillips the founder of Nomad Stays coming to you live from the Rhone-Alps in France for a weekly update of Travel.
What is covered in this update
???? Northern Summer now finished
Distinct dropoff of bookings

Many properties telling us they have forward bookings for next summer

But they expect cancellations

Last-minute bookings and deals still a thing to look for now
✈️ More airline pressure with more staff losses. Qantas in Australia saying probably won't fly to the US until a vaccine found
???? Borders closures tightening a bit more as a result of uptick now northern Summer finished
???? Victoria Australia's outbreak has peaked and numbers dropping again.
State borders still closed but more a reflection of politics than health
???? Still seeing a number of travel companies fold
But Airbnb is doing its IPO

will be interesting how much the investors buy their story
????Travel booking getting interesting with more smaller hotels going online
Still seeing relatively low online use in much of EU, e.g

only 37% of this region using Facebook

Lots of online travel operators going out of business or pivoting too

Makes harder to find your travel experiences

Rates still low
???? People's acceptance of isolation after a foreign journey.
Seems ok for many as they're working from home
#workfromanywhere
Where to from here?
Let us know where you are heading in the comments.
See our latest top stays in 15 countries ready for the nomads to work and play!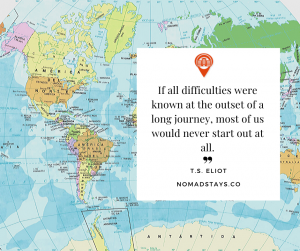 Join Our Community!
We have a community of travellers who you can connect with and ask questions. It's all about sharing, connecting and exploring off the beaten track place for the more adventurous DIY nomad.