15 Top Countries for Nomads – Part 1
Imagine travelling the world and living 2-3 months in each of these places in the world for less than what it costs you per month where you live now. COVID 19 has for sure slowed things down, but there are still places you can visit. Depending on where you are now travelling and working from anywhere in the world.
Iceland has been on my curiosity list forever and I am definitely going. In fact, anywhere I have not been before, is right up there on my priority list, even down to a road I have never travelled, I especially taking a road or track I have not explored yet. Offen those tracks and roads are right under your nose and really no reason why you haven't travelled it only that you didn't take the time to because you thought it would always be there.
Don't wait thinking there is always time, Just do it!
Saying that there are a few things in my life I regret not doing, one was going on the concord as staff travel when I was in the Airlines and could travel on it for a fraction of the price that any other person could travel, and you know I didn't do it. Now I regret not taking that opportunity. I guess when Your younger you think you have all the time in the world and then suddenly, countries close and companies close down and aircraft co out of commission and the era is forgotten.
Being an aircraft buff and a light-sport aircraft pilot that fly's for fun, that was an opportunity I needed to jump on. Lesson learned. I also lived in Hong Kong for a few years and never took the time to go to Bejing, which is nuts, now you can't get into the country and I am slapping myself for that. So there it is! my advice to you is always taking the opportunity when it arises because you never know when the opportunity won't exist.
I think that is one of the many things COVID 19 has taught me is looking for the opportunity within the crisis. And there is plenty of opportunity's, you just have to give it a go.
So what are you waiting for?
Just do it! If you are thinking of travelling and working around the world there is always an opportunity you just have to find it and go for it.
#1 Iceland
With its incredible taste in Architecture, Reykjavik is a stand out for design, colourful homes intriguing landscapes to beautiful churches inspired by waterfalls. Which in turn makes Reykjavik's very hip and quite futuristic. Infused with the latest in technology and innovation, it's inspirational. Famous for friendly bars and high energy nightlife it's definitely worth the visit!
There is a few opportunities for 10 weeks long mentorship-driven seed-stage accelerator program that runs from June to August each year in Reykjavik, Iceland so checks out opportunities that might be something that may suit you.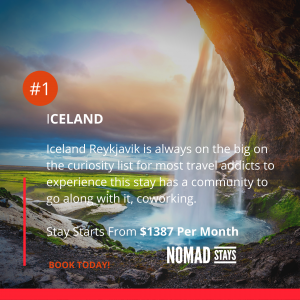 Adventure
With Glacier hiking, paragliding, snowmobiling, dogsledding, river rafting, diving, kayaking, and fishing just to name a few it is also a photographer's wet dream. As for Reykjavik, it is perfect for those looking to live in a city with a playground of nature, and who plan of taking advantage of the nearby natural wonders. Volcano hiking, natural baths and Blue Lagoons are possible side trips, with unlimited access to national parks and a spectacular view of the northern lights.
Active Stays
Where: Reykjavik
We have a very affordable monthly price for Iceland with
safety
Very safe, due to the POD style accommodation. Starting at USD 1387 a month you can make an instant booking and all you have to do is get there and get started!
Secure lockers for luggage in all rooms.
Each pod has a comfortable mattress
Every pod has a curtain or a door
USB mobile charger in all Pods
Free parking in front
Coworking & Wifi
With 9 active coworking places, it's fairly easy to get to a coworking community with networking events. Nestled between the sea and snow-capped mountains Reykjavik is a nature lover's heaven.
Be warned! Iceland is not for the faint of budget, the average rent for a one-bedroom is over a grand a month. Alcohol is taxed heavily making a full night out on the town a luxury. Even comfortable nomads should be prepared to make some cuts, but Reykjavik will be worth it.
STAYING CONNECTED in Iceland is better and easier than you might think.
Iceland might be remote but they are very connected in terms of WiFi and technology. Icelander's rank amongst the top Internet users in the world, so you should not encounter any problems with finding an internet connection for your, laptop or other web-enabled devices or smartphone.
Also, tourist information centres often provide many types of services, including mailing or Internet access.
Internet access in Reykjavik, you will find Wi-Fi access throughout the city centre, usually with free connection, in all kinds of places, including:
Hotels
Coworking
Cafés
Coffee houses
Bookstores
Bars
Internet access in smaller towns and countryside, many offer Internet connection, either free of charge or for a small additional fee.
Major petrol stations also offer Wi-Fi connection in locations across the country.
Prepaid 3G/4G SIM cards, Vodafone sells prepaid mobile internet starter kits (3GB included) for smartphones at their stores and resellers. You can also find these kits around the country and at the BSÍ bus terminal in Reykjavik.
#2 Portugal
Known as one of the top digital nomad goto countries, Portugal is a southern European country on the Iberian Peninsula, bordering Spain. Situated on the Atlantic Ocean, it has influenced many aspects of its culture: salt cod and grilled sardines are national dishes, the Algarve's beaches are a major destination and much of the nation's architecture dates to the 1500s – 1800s when Portugal had a powerful maritime empire.
Adventure
Surfing and the beach and lovely weather is the main attractor for digital nomads. There is also a great digital nomad community in Portugal.
Our current active stays are in Lisbon, a thriving, busy city vibe, the Azores, an autonomous region of Portugal, an archipelago in the mid-Atlantic. It's all about Island Life here with dramatic landscapes, fishing villages, green pastures and hedgerows of blue hydrangeas. São Miguel, the largest, has lake-filled calderas and the Gorreana Tea Plantation is unique if you are a tea lover like me.
Check out our newest stay in the Algarve, Portugal's southernmost region, is known for its Atlantic beaches and golf resorts. Whitewashed fishing villages and now its central coast between Lagos and Faro is lined with villas, hotels, bars and restaurants. The region's western Atlantic coast and rugged interior are less developed but great to discover hiking and other adventure sports.
Safety
Ranked as the 3rd safest country in the world by the Global Peace Index Portugal like most European countries and cities you still need to be a bit careful with easy to swipe things like mobile phone and computers and pickpocketing.
Coworking & Wifi
Portugal offers startup visa opportunity's If you are an entrepreneur who intends to develop your startup in Portugal, even though you might not have started your business yet?
#3 Bulgaria
Adventure
A fantastic place to hike and explore and Bansko is at the base of the mountains of the Pirin Alps. Bansko is a gateway to numerous ski and snowboard slopes on Todorka Peak, including the challenging Tomba run and home to bears and wolves. The park is also known for the high-altitude Vihren Peak, with forested ridges and striking glacial lakes.
Active Stays
Our active stays are ready to book for a little as USD 230 a month, and it comes with a fantastic community and coworking spaces. Bansko is a town at the foot of the Pirin Mountains, which are part of Pirin National Park, in southwest Bulgaria.
If you like the change of the ocean at your feet then Sunny Beach located on the eastern coast of Bulgaria. Sunny Beach (Slanchev Bryag) is a seaside resort destination on the Black Sea. The permanent population is relatively small as is Bansko. Yet, the booming tourism industry brings in tons of visitors during the hectic months of Bulgaria's summer, so off-season is a great time to enjoy the view's and simplicity of the place.
The capital of Bulgaria is Sofia and a truly buzzing city with history, lots of growth where a lot of large foreign companies have set up their headquarters, so business-wise there is a lot of change.
Safety
Bulgaria is a very safe country. There is a low crime, and don't actively engage in heated political debates, public protests are rare (but avoid them if they do break out), and religions coexist happily on the whole.
Coworking & Wifi
Coworking in Sofia staying a week is not really enough time, but it is worth spending the time to explore before heading for the mountains or the seaside. Lots of great coworking places to choose from. There are approximately 24 coworking currently spotted all over the map you will always find a coworking to suit your needs.
#4 Spain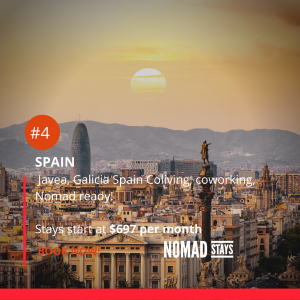 Adventure
Paragliding, hiking, riding canoeing you name it they even do night hiking, Spain is a great place to explore.
Active Stays
We have active longer stays in Alicante which is a port city on Spain's southeastern Costa Blanca. The capital of the Alicante province. See our stays in Galicia, an autonomous community in Spain's northwest, is a verdant region with an Atlantic coastline.
The destination for those following the Camino de Santiago pilgrimage route, which is big on anyone hiking list no matter your religious beliefs, Spain is filled with great adventures to be discovered. The western cliffs of Cape Finisterre were considered by the Romans to be the end of the known world and the beginning of the modern day nomads world to explore.
Safety
Spain is very safe but it is a good idea to keep your wits about you when it comes to the latest tech, and handbags so keep them close and are smart about how you store your cash.
Coworking & Wifi
Most of our stays have built-in Coworking community as they are fantastic coliving spaces and good wifi.
#5 Morocco

Adventure
Morocco is just one big adventure, so what more do you need to know? It's exotic, and just the thought of it brings up the busy bustle of a market with spices and hustle of the streets, there is much to explore
Active Stays
Casablanca is where we have active stays and what an incredible stay it is. Spectacular with a great feeling of community and feel to it, you will want to stay for a month.
Safety
Just the normal wits about you is good as for any place you travel. Casablanca, known as a mix of different lifestyles and cultures and influences, is one of the most liberal areas in Morocco, but you should still always be aware and respectful of the country's values.
Casablanca is a very important, and very well known city in Morocco.
It is also the cosmopolitan, economic heart of Morocco and is also a big industrial centre, with its largest city that boasts the world's largest artificial port.
There is quite a lot of poverty, unfortunately, with which the city is ridden, is prevalent in slums on the city's outskirts and has led to high rates of crime, drug use, and prostitution. Be careful of the dogs they can pack and attack but it's not that common, other than that it is ok.
Coworking & Wifi
Casablanca has over 24 Coworking spaces spotted all over the city mainly concentrated in the city centre. There will definitely be one that will suit your needs.
Where to next?
Our team at Nomad Stays is working around the clock make sure you have the right accommodation and to get settled in. We want you to have the best adventures all over the world so if you stay in a great nomad friendly stay we would love to hear about it and please go ahead and Suggest a Stay. Remember if you are looking for the best deal sign up as a member it won't be free forever! Join today.