Why Is Coworking Important To Digital Nomads?
What is Coworking and why is it important to digital nomads and remote workers?
When I started my journey as a digital nomad we spent a lot of time in coworking spaces, volunteering at startup weekends as mentors and some times we would house sit for the coworking space owners in small regional places so they could go on holidays.
Coworking is great for people who just want to try out a side hustle and not have to deal with expensive office space and the non-social library space. Coworking is more of a community-based space. It is interested in working with the community to encourage innovation and growth for the town or city economically. It's a safe space where you can grow your idea into a business. Sometimes you can even find a Makers space for those of you who love to make things with your hands.
There are all styles of coworking spaces from niches such as NGO's to freelancers to tech-focused even the niche of coworking just catering for digital nomads. Coworking works because of the events it holds to allow the community to grow, connect and thrive. Generally the more niche the coworking the more successful. However, that is not always the case. Some spaces encourage the community to get their kids involved with Coding classes and fun innovative workshops for mums who have never really had anything to do with technology. Basically, they come in all shapes and sizes, niches and focus. Some coworking spaces are Coliving as well!
Is Coworking for me?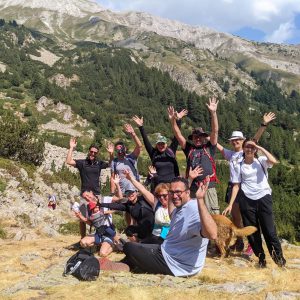 Photo from coworkers on a group hike in Bansko Bulgaria.
It's not for everyone but nomads and remote worker generally look for them. Some people need a soundproof room others just need internet and a desk. Having a coworking space close by where you are staying or a place within your stay accommodation that isn't your room is important for digital nomads and remote workers because they need to be connected in every sense of the word.
By connected, I mean Wifi connection sure, but more importantly connection with community and events.  What about the connection points with the culture. Can you get all these things from a Coworking Space? Yes, you can. Coworking spaces have their own culture alongside the culture of the country.  Normally you will find it to be very niched to attract a certain type of person. For instance in Bansko Bulgaria in a small town in a ski resort location, there is a coworking space just for Digital Nomads. It only exists for digital nomads and they come from all parts of the globe.
When we travel we like to connect with a coworking to learn from the community around us.

Here is a coworking and coliving space in Spain.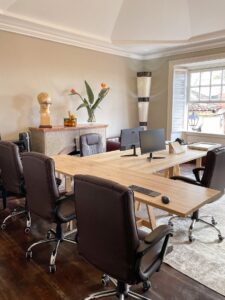 Photo by Gato Azul Coliving Spain
Have you ever found yourself trying to desperately find a cafe to work from, pushing to make that deadline?
Then, in that critical moment, your 1-hour free use of the WIFI runs out… Yeah, stories like this are common and it happens to us all at some stage or another. What if I told you there's a better way where you could connect with like-minded people while you get some critical work done with good internet.
Just imagine a space where you don't have to worry about the internet not working or the person next to you being too loud and having too much noise in the background. However, some people would prefer to sit in a cafe, but you have to be mindful to spend money so that you are not taking up space for paying customers. There is a balance and awareness.
Coworking spaces have been popping up all over the world that has enabled people to not only rent a desk for an hour but for a day week or month by month. Everything you need to be productive and get focused. You may even be surrounded by affiliate marketers, writers, photographers, coders, app developers, you name it, all working on their projects in the same office space.
There is a trend with coworking and startups to go hand in hand, that started with We Work and strong startup ecosystems with coworking to help founders gather in one place, so they can collaborate, help each other and giving the local business community to get involved. Coworking has been taking the world by storm and comes in all shapes and sizes and also specific niches, such as NGO specific, digital nomads, coders or Dev specific, fintech, Agriculture, Makers spaces some are even coworking and coliving.
The model is to ensure that people grow out of the space and get bigger, so they often have different size rooms to accommodate this change. More and more remote workers choose to work in coworking spaces and for a reason.
The advantages of coworking spaces are myriad and if you're an experienced coworker, I'm sure you know what all the fuss is about. But if not, let me break it down to you in 10 reasons why you should try coworking!
1. Location
Enjoy the ideal Beach Life or Mountains Life, City Life etc

2. Flexibility
With work and the ability to work from anywhere, not just one coworking space.

3. Community
Having like-minded people to hang out with, community, as you travel, is always an advantage.

Photo by Sun & Co. Spain
4. Inspiration
Each space has it's own personality and moves to inspire its coworkers in different ways

5. Events
The model of the coworking space leverage events to get interested in the local area, offering a central place for innovation to take place

6. Innovation
A place where idea's can be expressed and encouraged

7. Grow a business
A cheaper more affordable way to have an office without all the overhead and have more
8. Get access to experts and mentors
Most spaces have mentors on hand or access to mentors that you can utilise
9. Increased productivity
Having the right environment and growth mindedness can help productivity immensely.
10. Learning
Coworking spaces often have programs and teach business techniques, so it's a great space to learn even if it is just learning from connecting with other founders and coworkers.
Some are even Pop up or Virtual Coworking…
You can even get access to Pop up Coworking days.
Since COVID 19 the world has been forced to work differently, the technology has been there for a while but throughout the pandemic, we are all forced to do things differently. We opened our Virtual Remote Coworking space at the beginning of this year to create a place for coworking spaces to collaborate and globally and for remote workers to stay inspired. Like a normal coworking space with run weekly events to help founder keep the momentum.
What's your experience with coworking while you travel?