Goa & Kerala India – off the beaten track for Digital Nomads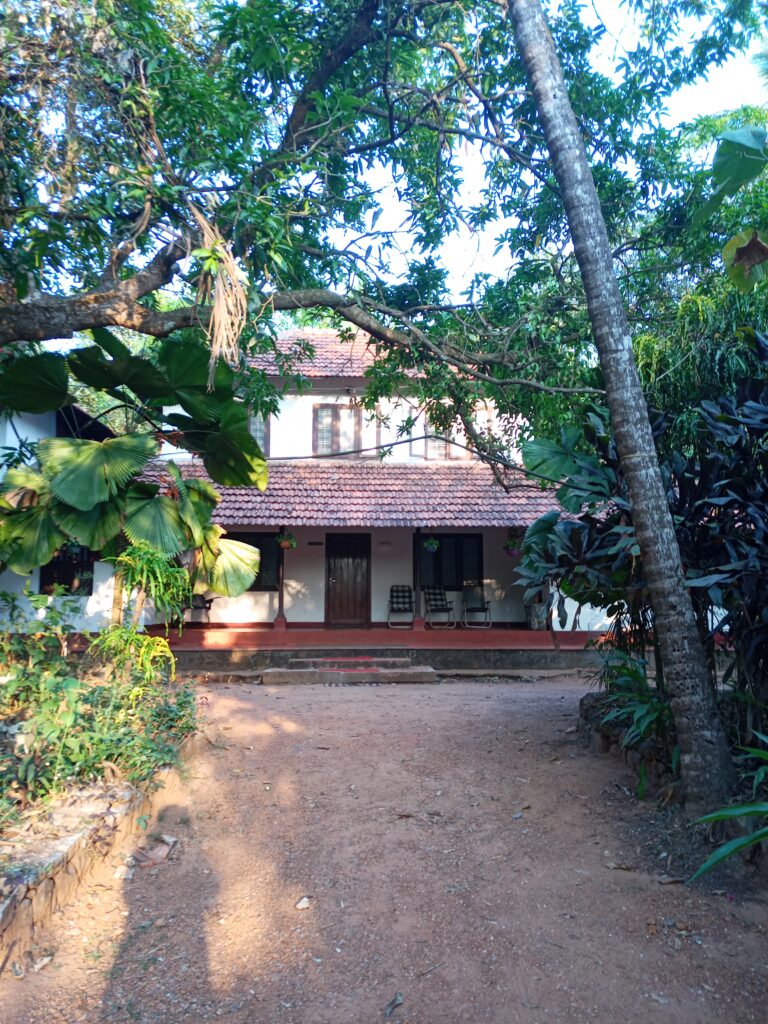 Picture taken by Linda McCall while staying here for a month in a Mountain Village.
Come with me while I go exploring off the beaten track and off peak season in Goa & Kerala, India: A Paradise for Digital Nomads. Now with the freedom of digitally working remotely from anywhere around the world, it seems it has become a thing for explorers type travellers. I like to share the destinations that offer a blend of natural beauty, cultural richness, and unique experiences while working from great places I travel and experience. Recently I travelled to India for a month and a bit to Delhi, Goa & Kerala. So,with that experience in this blog, we'll explore Goa and Kerala Particularly areas that I tried and tested and would recommend only for digital nomads seeking inspiration and adventure. I share tips on traveling in Goa & Kerala, hiking in India and touch on places to stay, currency, cultural differences and coworking suggestions and highlight differences in regions to be prepared for.
goa & kerala on & off the beaten track
If you are searching for an extraordinary destination experiences, look no further than Goa and Kerala.Just to get the lay of the land first, let me explain that Goa and Kerala are separated by the large state of Karnataka. And both great areas of India to explore for digital nomads because of weather, lush mountains and fabulous culture and innovation. I love to go off the beaten track, so the places I visit and Stay in are really off the beaten track places. Some are busy bustling places such as Goa (not off the beaten track). But, Kerala has many rural and remote places to explore which I took full advantage. Both are very big places to explore and get ready to go away from tourist areas and dive in to India off peak from the tourist season and discover some treasures.
Photo by Unsplash
With Kerala being the hidden gem, and Goa a not so hidden being that it is quite a popular tourist destination, but still a gem of southern India. I visit cities, villages and from beaches in Goa to Kerala's Waynard for Tea & coffee plantations, Kozhikode (coastal city), Thalias (coastal city) are some of the places I travelled to by bus and train.
There are well-known tourist spots, and there are numerous lesser-known off the beaten track destinations where you can escape the crowds and immerse yourself in tranquility. Places like Kollam, Kozhikode, and Kasaragod offer peaceful settings, where you can work alongside the picturesque waterways, surrounded by lush greenery. Or, jump on a houseboat for a weekend or stay in a cozy cottage for a month in a mountain village and let the gentle rhythm of life inspire your creativity.
Photo from unsplash
Sure, while Goa steals the spotlight when it comes to beaches in India, Kerala boasts a coastline adorned with stunning, unspoiled beaches. Varkala, Kovalam, and Marari are well-known beaches, but venturing off the beaten path will lead you to secluded stretches of sand like Muzhappilangad, Bekal, and Kannur.
Imagine yourself working with the sound of crashing waves in the background, enjoying a refreshing dip during breaks, and witnessing breathtaking sunsets that will leave you awe-struck. Then imagine yourself hiking these lush tea plantations with the sounds of money's and wandering with village cows, thats Kerala's Western Ghats mountain range which offers a verdant escape for digital nomads seeking cooler temperatures and a serene environment. It is bliss trust me!
As for Kerala, famous for its tea plantations in Waynard district of Kerala like close to Chundale in Kerala and so much more provides respite from the hustle and bustle of city life. Picture waking up to mist-covered valleys such as these over tea plantations, working from a cottage, and rejuvenating amidst tea plantations or exploring wildlife sanctuaries during your leisure time. That is what I experienced and you can too. Stay for a week or stay for a month.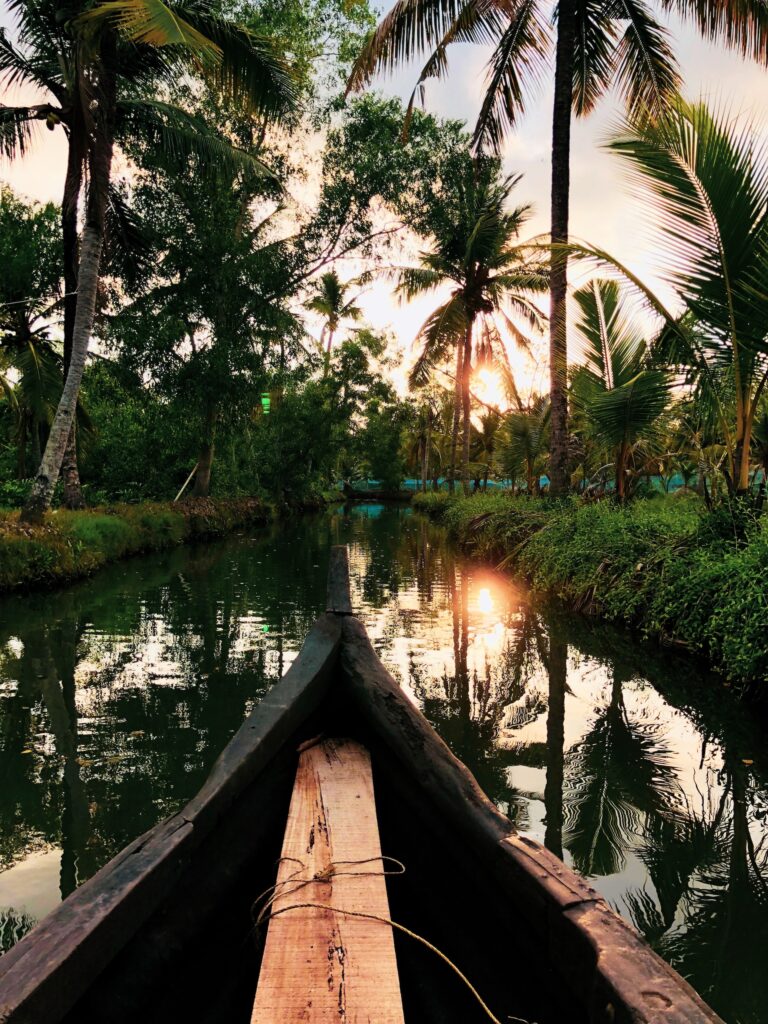 photo from unsplash
With awesome cultural richness Kerala is known as "God's Own Country" for a reason – its rich cultural heritage and diverse traditions make it a fascinating place for digital nomads to explore. While the famous destinations like Kochi and Thrissur offer glimpses into Kerala's vibrant culture, venturing off the beaten track will bring you face-to-face with authentic village life and lesser-known festivals. Experience Theyyam performances in North Kerala, witness ritualistic folk arts, and Colour festial but each area has in own traditional festivities. Indulge in traditional cuisine to truly immerse yourself in the local way of life.
Is Monsoon season the best for Wellness retreats?
Yes, it's true. One reason is that our skin pores open up faster due to the high humidity during monsoon time. This causes the skin to absorb the Ayurvedic oil better. Additionally, the discharge of toxins is more intense, as the body naturally perspires more in very humid culture.If you are looking to do a wellness retreat the locals will all tell you that the off peak monsoon season is the best time of year to do it your Ayuravadic wellness retreat. For digital nomads seeking wellness and self-care, Kerala's Ayurvedic treatments and holistic practices are unparalleled. While Ayurveda retreats in popular destinations like Kovalam and Varkala are well-known, exploring off the beaten track will introduce you to hidden Ayurvedic centers, like Kottaram Ayurvedic Centre that I went to, (organised by my host at the Heritage Homestay) where you can rejuvenate your mind, body, and soul amidst serene natural surroundings.
This video was given to me by the owner of the Kottaram Ayurvedic Centre
You can take a break from work to pamper yourself with Ayurvedic massages as, meditation, and yoga as I did while there to find balance and enhance your overall well-being. While staying at my Stay in Kerala, a beautiful five bedroom historic homestead, I did have a weekly Ayurvedic treatments which was just 9 mins by auto rickshaw from the homestead. I had a doctor treat me before each treatment and guide me with my cleans. My hosts took care of my bookings and I would go back just for that each year.
Where to stay for a month for "Village Life"
While staying in the Kerala Heritage Homestay I worked from here for a month, and spent some time at Aldora for a week away in the tea district of Waynard. Spirit of the Wild is a remote in the mountains but I was unable to stay as it was not finished but is open to the public now.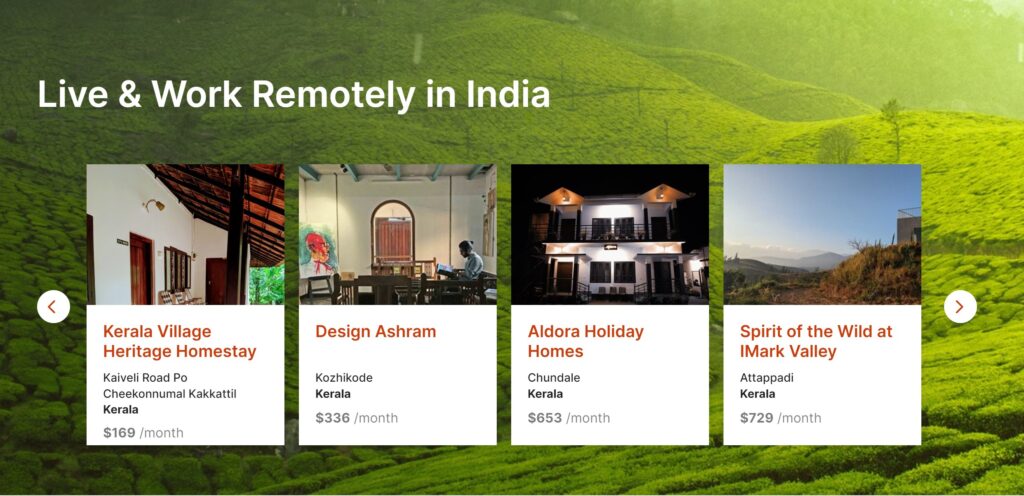 See more digital nomad ready Stays here. All these stays are listed at Nomad Stays.
From my personal experience, as a digital nomad, exploring Kerala's off the beaten track destinations can be a truly transformative experience. From serene backwaters to pristine beaches, majestic mountains, cultural richness, and holistic wellness practices, Kerala offers a perfect blend of work and play. Set up your workstation in nature's lap, and let Kerala's hidden treasures inspire your creativity while providing a unique and unforgettable digital nomad experience.
This little village I was in at this stay was only 45 minutes away from Kozhikode and there are no tourist so living there for a month I was the tourist attraction for the locals. So it is an off the beaten track experience but my host Mahesh had perfect english. The house had a great kitchen so I cooked myself vegetarian curries most of the time and sometime ate in the village. You can also get fresh milk from the cows each morning if you take your bottle down to the local village and get your fresh milk direct from the farmers (which my host helped me understand how to do this).
Photo from unsplash
The locals where very curious about me and I made friends with the local teenagers who would come past the house and practice their english with me and invite me for tea. I really loved the full village experience I had at the Heritage stay. It was completely no frills and authentic but the hosts where exceptional, making my stay an amazing.
My host gave me a authentic Indian Lunch on banana leafs, sharing cultural ways and tradition, they also own coconut farms so they shared their lovely fruit they grew and there was plenty of tropical fruit. I lived on tropical fruits from the local fruit stalls on the side of the road. I even planted one of the Cashew nuts I found on a walk and sprouted a Cashew, watermelon plant, pumpkin and jack fruit nut tree while I was staying there for the month.
Money tips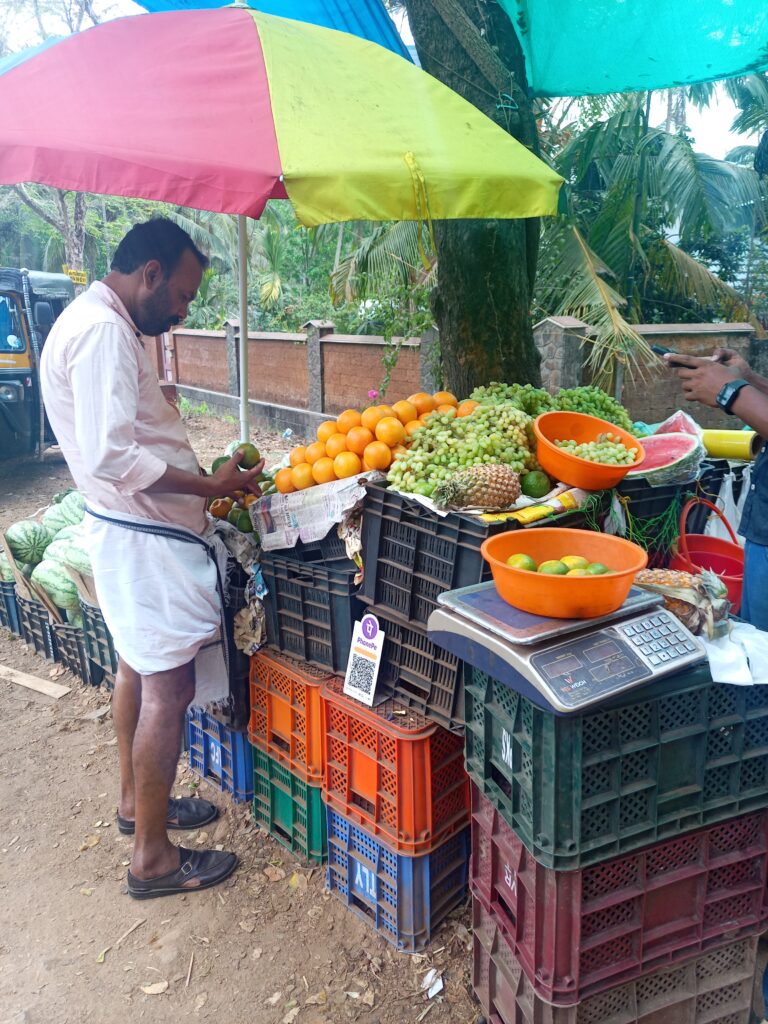 This photo is by Me (Linda McCall) of Mr Babu the rickshaw driver I had for the month while staying at the heritage Homestay, he was helping my pick the right fruit. You will also notice that even on the roadside stores you can by pay by app mainly if you are a local.
currency Tips
As for money, the official currency of India is the Indian Rupee (INR). The Rupee is available in denominations of 10, 20, 50, 100, 200, 500, and 2,000 rupee notes, as well as coins in denominations of 1, 2, 5, and 10 rupees. The exchange rate between the Indian Rupee and other currencies fluctuates. It's advisable to check the rates at authorized currency exchange centers, banks, or reliable online sources before making any currency exchanges.
Currency exchange services are widely available in India, including at airports, banks, hotels, and authorized money exchange offices. I was lucky enough to have english speaking hosts so they had the auto rickshaw driver take me to the reputable exchange, which helped a lot.
Cash Tips
While cash is widely accepted in India, especially for smaller businesses and local markets, the use of debit and credit cards is growing in urban areas. Major credit cards like Visa, Mastercard, and American Express are widely accepted in hotels, restaurants, and retail stores. However, it's always a good idea to carry some cash for places where card payments may not be accepted. It's recommended to always have cash especially in rural areas.
My experience was most places only took cash and credit cards often did not work (and I travel with multiple cards) some places due to card machines only recognising Indian banks. State and Federal banks were the best, also sple come ATM's had limits to how much you could take out.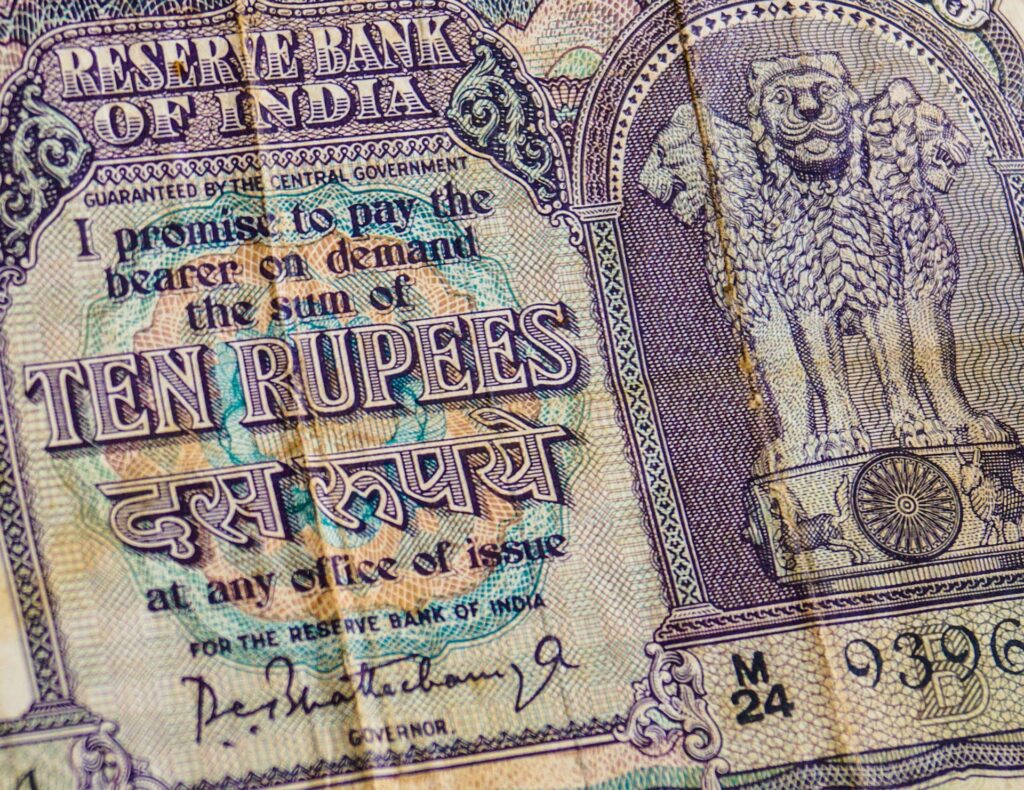 useful tips, Wifi, apps & regulations
I like to shop local in the villages from local producers and share the wealth since I was there for over a month I would make sure to goto different local stores.
India has a diverse and vibrant economy, and as a guest in their country, it's important to have a good understanding of the local currency, banking facilities, and money-related aspects.
ATM's & Digital payments
ATMs (Automated Teller Machines) are widely available in India, even in smaller towns and cities. They accept major international debit and credit cards. However, it's advisable to inform your bank about your travel plans to ensure your card is not blocked for security reasons. In some areas especial rural you will find they have limits on the amount you can take out can be a small as 4500 Rupee. But that knowledge was only shared by my host who helped me in many ways from to finding banks, exchanging money. Some other villages would allow me to take 10000 Rupee from an ATM.
SIde story of an incident- to take caution
On a Side Note; personal random experience: In Goa I was followed by a young man in a car and when I stopped to goto the ATM he tried to start up a conversation, he continued follow me into the ATM room as there was two machine and I pretended my Card was not working. He then followed me to two of them. It was late at night but just be aware of the people around you. (That goes not just for India but anywhere really). I had to go into the bar nearby to wait for him to leave then try again.
Digital payment apps like Paytm, Google Pay, PhonePe, and others have gained popularity in India. It's worth considering downloading and using these apps during your stay in India.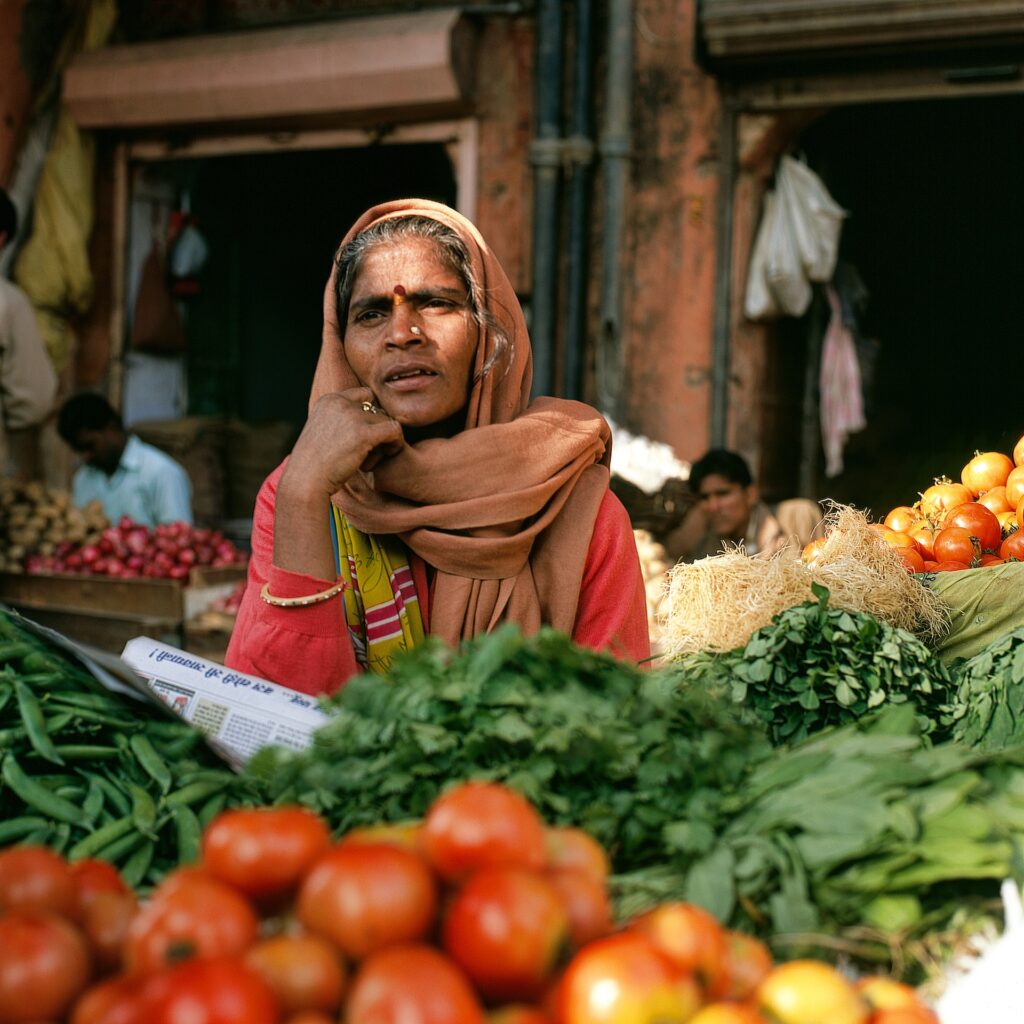 Market photo from Unsplash
tipping
If you are going to restaurants, bars, hotels, tours or using transport services, tipping is customary in India, although not mandatory. It's common to tip waitstaff, hotel staff, tour guides, and drivers. The amount typically varies between 5-10% of the bill or based on your satisfaction with the service.
Foreign currency Regulations
Foreign Currency Regulations vary from country to country so if you plan to bring in or take out a significant amount of foreign currency (equivalent to USD 5,000 or more), it's advisable to declare it at customs upon arrival in India. You should also keep the currency exchange receipts if you plan to convert the remaining Indian currency back into foreign currency upon departure.
Always exercise caution when handling money, avoid displaying large amounts of cash in public, and keep your valuables secure. It's also a good idea to carry small denomination notes for convenience, as it can be difficult to get change for larger bills in some places. It's always recommended to consult with your bank or financial institution before traveling to get the most up-to-date information and advice regarding money matters in India.
wifi
In Goa and Kerala WiFi good in most places in India but always check first. Be mindful that that you will experience power outages, surges as the country has power issues so it's up and down often. Some cheaper hotels will say they have wifi but you never seem to get on or it cuts out after 20-30 mins, so I recommend finding a coworking space to work from.
trains & public buses
When buying train and bus tickets try to get the conductor or if there is a map to give you an idea of how many stops you have and they will most of the time keep an eye on you and indicate when you need to get off. I found everyone to be so helpful in general and the younger generation and most people speak English. These local buses and trains are slow travel methods and very worthwhile doing but make sure you have time and to stop to explore the region more by staying longer.
Places to explore in Kerala
Photo from unsplash
These are some popular destinations I visited in Kerala that are worth exploring.
Wayanad: Nestled in the Western Ghats, Wayanad is known for its lush green landscapes, mist-covered mountains, and rich biodiversity. Explore the stunning Soochipara Waterfalls, go on a wildlife safari at Muthanga Wildlife Sanctuary, visit the ancient Edakkal Caves, and enjoy a boat ride in the serene Pookode Lake.
Munnar: Situated in the hills of the Western Ghats, Munnar is famous for its tea plantations, scenic beauty, and pleasant climate. Visit the Tata Tea Museum to learn about the region's tea heritage, trek to Anamudi Peak (the highest peak in South India), explore the Eravikulam National Park to spot endangered Nilgiri Tahr, and indulge in breathtaking views at Echo Point and Mattupetty Dam.
Alleppey (Alappuzha): Known as the "Venice of the East," Alleppey is renowned for its backwaters and houseboat cruises. Spend a day cruising along the tranquil backwaters, witness the mesmerizing Nehru Trophy Snake Boat Race (held in August), visit the historic Krishnapuram Palace, and relax on the serene Marari Beach.
Fort Kochi: Immerse yourself in the colonial charm of Fort Kochi, where you can witness the unique blend of Portuguese, Dutch, and British influences. Explore the iconic Chinese Fishing Nets, stroll through the charming streets lined with colonial buildings, visit St. Francis Church (the oldest European church in India), and enjoy the vibrant arts scene and bustling spice markets.
Kovalam: Known for its beautiful beaches and serene atmosphere, Kovalam is a popular beach destination in Kerala. Relax on the golden sands of Kovalam Beach, experience rejuvenating Ayurvedic treatments, visit the iconic Vizhinjam Lighthouse, and indulge in thrilling water sports and kayaking.
Both Goa and Kerala have many more amazing places to explore, and each offers its own unique charm and attractions. So, whether you choose to visit these popular destinations or discover hidden gems, Kerala promises a memorable and enriching experience.
where to stay
Chundale is a village in Wayanad district in the state of Kerala, India. Chundale, where I stayed to explore the tea planation's because I am passionate about tea. It is a great place for hikers to base themselves. At Aldora Stay the hosts treated me like family they are very gracious and took care of my every need. You can catch and bus or an auto rickshaw to get around so it is easy and cheap to get around. A lesser-known or offbeat destination, but a fabulous place surrounded by Tea plantations and hiking mountains. Kerala is a state with numerous beautiful valleys, hill stations, and attractions.
These are just a few valley destinations in Kerala, and there are many more hidden gems waiting to be explored. It's always a good idea to do further research or consult local tourism sources to find more information about specific offbeat locations or lesser-known valleys in Kerala.
Waynard a hikers paradise
If you love to hike then Goa and Kerala are for you from beach hikes to mountain hikes with monkeys and stunning views. This is a picture I took while hiking from the stay in Chundale in the Waynard district of Kerala. What you can't see is the monkeys in the trees and hear the birds on sunset. I was walking with my host just after I arrived and he show me areas that a local tourist never see's. It was a completely unique experience. I know that because they mentioned they don't get westerners in these areas. So it's off the beaten track you will definitely enjoy. I think that is why you should experience this these Stays.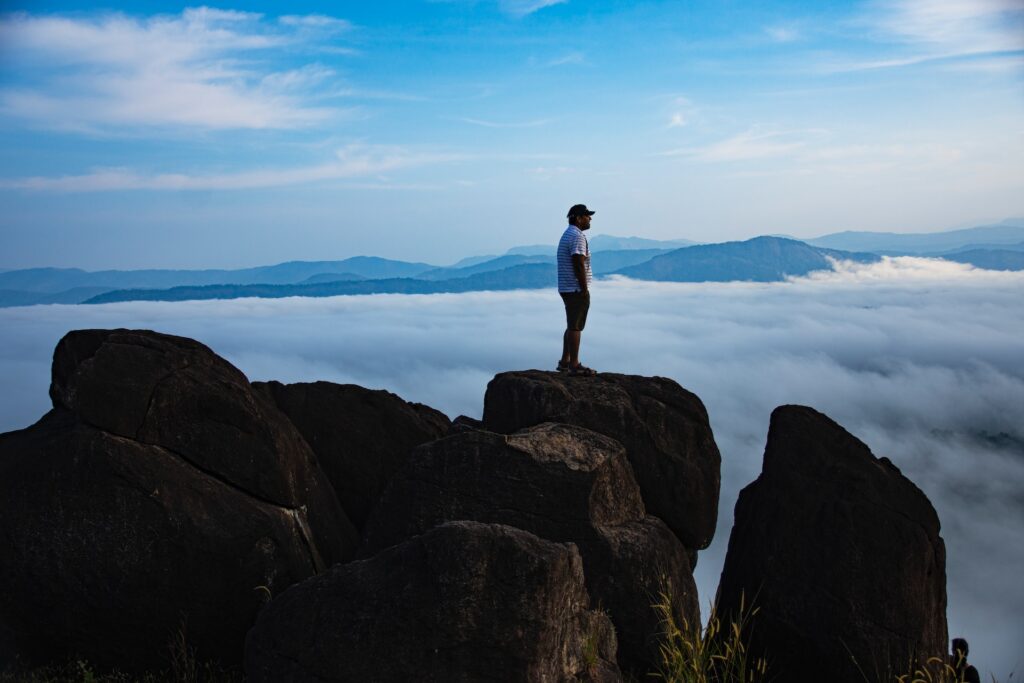 Photo from Unsplash
Chundale, located in the Wayanad district of Kerala, India, is surrounded by beautiful landscapes and offers excellent opportunities for hiking enthusiasts. Here are some tips and suggestions for places to hike in Chundale.
Chembra Peak
Chembra Peak is the highest peak in Wayanad and offers a thrilling hiking experience.
Neelimala
Neelimala is a popular trekking spot near Chundale that offers breathtaking views of the surrounding hills and valleys.
Pakshipathalam
Located near Thirunelli, Pakshipathalam is a haven for birdwatchers and nature enthusiasts.
Banasura hill
Banasura Hill, situated near Banasura Sagar Dam, offers a picturesque and moderately challenging trekking trail. Brahmagiri Peak: Though Brahmagiri Peak is located in the neighboring state of Karnataka, it is easily accessible from Chundale.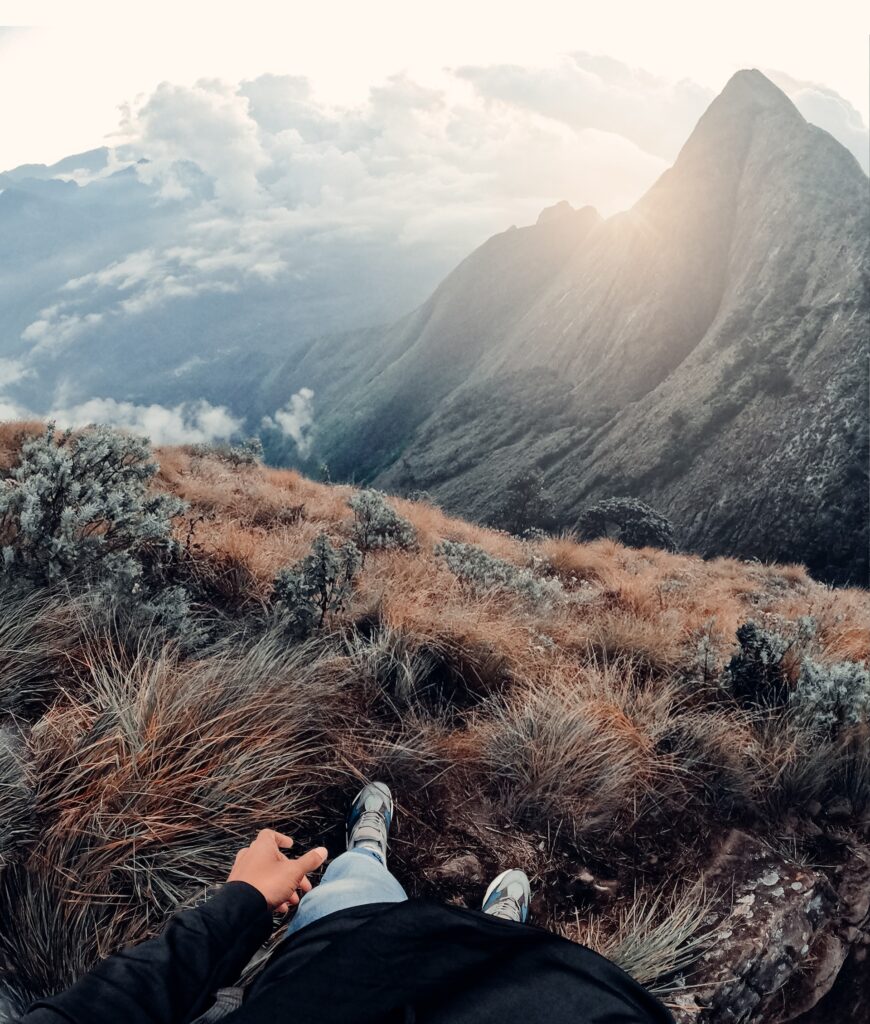 Remember to follow these tips for a safe and enjoyable hiking experience in Chundale:
Check weather conditions before heading out and be prepared for changing weather.
Wear comfortable and appropriate hiking shoes and clothing.
Carry enough water to stay hydrated throughout the hike.
Pack snacks, energy bars, and a first aid kit.
It's advisable to go on these treks with a local guide who is familiar with the routes and can ensure your safety.
Respect the environment and follow the principles of Leave No Trace by not littering and being mindful of the natural surroundings.
I would recommend the later of a local guide to enjoy your hiking adventures in Chundale and embrace the natural beauty that Wayanad has to offer!
KOZHIKODE, Calicut district
A beach coastal city Kozhikode or otherwise known as Calicut district is where I flew into from Goa and Stayed at the Design Ashram just one street from the beach so if you want community and coworking this is definitely where you want to hang for a month or you can get a beach house if you want something more private. These are both excellent choices.
When arriving in Kozhikode I stayed at the Design Ashram on the coast and it was excellent! An incredible Hostel style that also had a few private rooms. There is a coworking space and they often have events as well. It one street from the beach and walking distance to restaurants and ATM's. Next door the have a historic authentic museum which is really worth a look. You can hold meeting and events there too. Breakfast on the beach or somewhere local is not expensive and really good quality food.
I might add here, having been travelling in India a fair bit over the last decade, I have a few things that I always have with me, one is bottled water and a small packet, two is a packet of tissues as most bathrooms will not have it due to the sewage systems not being able to coupe with the paper; so get use to using a bide and have hand sanitizer with you and expect the unexpected.
coworking & innovation Kerala India
Kerala has a growing number of coworking spaces catering to the needs of digital nomads, entrepreneurs, and remote workers. Here are a few popular coworking spaces in Kerala. Startups Valley TBI in Calicut offers coworking spaces, incubation facilities, and support services for startups. It provides a conducive environment for networking, knowledge-sharing, and skill development. A popular one such as 91 Sprinboard which is one you will find in 8 different cities all around India.
There are a number of Startup community for entrepreneurs in Kochi that offer flexible workspaces, events that you can connect with community. Depending on where you are you can check out those in your area. Located in the heart of Kochi, Centre A Coworking Space offers a modern and collaborative workspace environment. Providing flexible seating options, high-speed internet, meeting rooms, and amenities for professionals.
These are just a few examples of coworking spaces in Kerala. The availability and specific features of coworking spaces may vary, so it's advisable to check their websites or contact them directly for more details, pricing, and availability.
Coworking Photo from unsplash
my Random meet up with other nomads
I Love it when a plan comes together really easily and this is what happened with my random meetup with fellow nomads. Having landed in Goa I had arranged to meet with friends Dr John and Ele (to see their youtube channel on there adventures) they are Aussies who are Sailing nomads in Europe, Australia, well globally. These guys are also busy zipping around the globe, just as I am. It always fun meeting up with friends from your home land in other countries and share the adventures. We met at a Startup Weekend volunteering as fellow mentors and stayed in touch ever since sharing a lot in common. They have also built an app for helping people with mental health called TufMinds (you will find it in the app store) and built multiple businesses. A great app to have while traveling to combat the times when you are feeling stressed.
My friends Dr John and Dr Ele Mackintosh (the Barefoot Doctors Sailing) had just spent four days over valentines day in an Ashram in the south of India and loved it. They were all yogied up and ready to process all the work they had just done chilling out on the beach. I had flown in from Delhi and ready for beach chill time too so what a few little notes exchanged to messenger worked out really well and perfect timing.
It was my first time in Goa and it was a great place to explore with friends. I will go again off season that is for sure. One thing you will find in Goa and all over India, even in the biggest of cities like Mumbai, which is a bit fun, are the cows wandering the roads that you need to dodge if you are in a car, if you have a driver they are very good at weaving so you will not need to worry they are experts. In Goa you have cows in the streets and horses roaming around on the beaches in some parts. It was always a fun surprise trying to dodge the cows while trying to by tropical fruit from the street vendors (they feed them the scraps).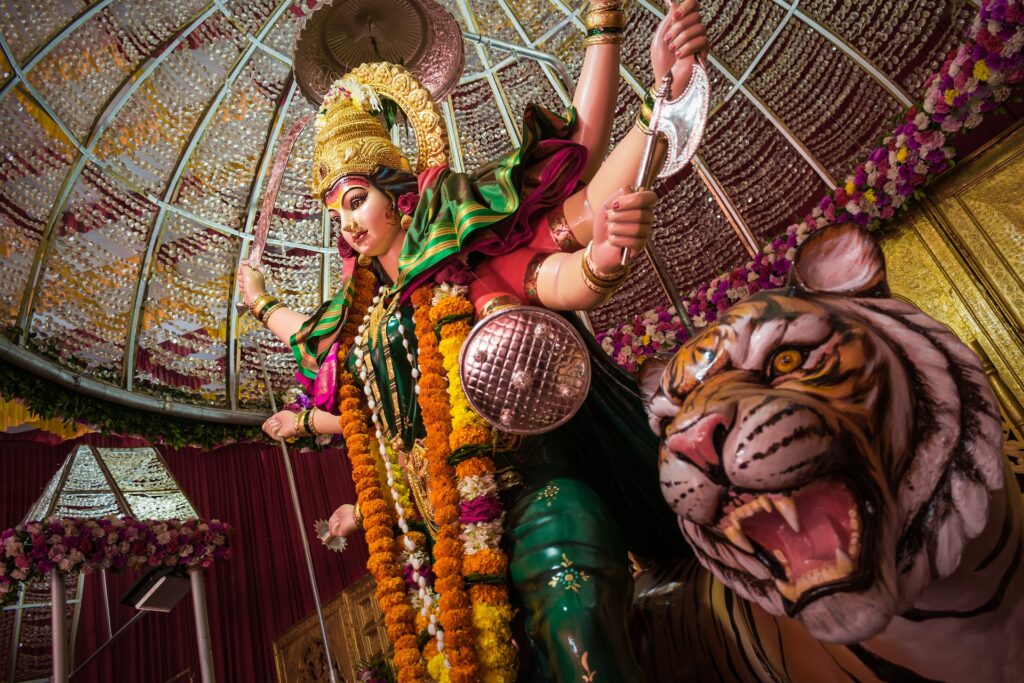 Photo by unsplash
Having spent a fair amount of time in Mumbai India in the past and had also just spent a week in Delhi I love to explore the buses trains, auto rickshaws walking around the streets discovering the neighbourhood I enjoy India's diversity. This time I only spent a week in Delhi and in Goa with my friends but could have stayed a month. But in high season it is expensive. In the time I was there we managed to explore the Fort and head to islands by boat.
One thing I really enjoyed was the Tandoori Chai and the Masala chai (but I am tea addict) and I love all the spice and tea stalls, the sunsets on the beach and just wandering and walking the streets and beaches during the day and night (not for everyone, that is my personal fun thing to do) because every part of the day in other cultures has something new to teach you and that is why I live the nomadic lifestyle.
After a wonderful week together hanging out sharing our travels and business adventures. I then took off the mountains of Kerala to do some Ayuravadic medicine treatments and study yoga for a month and chill out in a traditional village with no tourists and they took off to Nepal, then off to sth africa to sail a Leopard Catamaran boat across the Atlantic ocean to deliver a boat to Europe for summer "as you do!!".
Anyway all in all I do wish I had more time in Goa to explore more of the area, so I recommend staying for a month if possible. So, here are some ideas
from what I explored and more about the variety of activities.
Why Goa?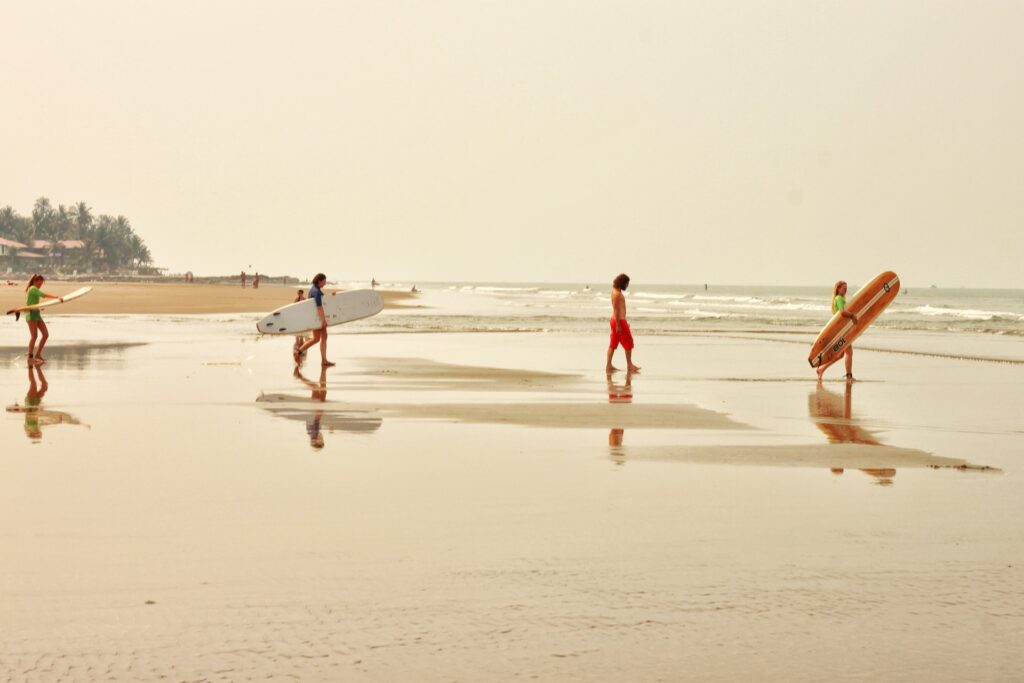 Photo from unsplash Goa beach
Goa from beaches to mountain villages
India is generally busy with it's large population of around 1.5 Billion people, so every where is populated with people and tourist. The beaches are always it bustling with movement and it has the serenity of the ocean waves and sometimes even horses wandering free on the beach.
I started by visiting the beautiful Aguada Beach itself. Relax on the golden sands, take a dip in the Arabian Sea, and soak up the sun. The beach offers water sports activities such as jet skiing, Parasailing, kayaking, paddleboarding, and windsurfing, surfing ins some hotspots. A day trip to the islands and including water sports are very inexpensive like diving and other aquatic sports.
Don't miss the chance to go on a dolphin-watching tour where you can spot these playful creatures in their natural habitat.
And if you love to markets, visit the famous Saturday Night Market in Arpora, which is a short drive from Candolim. Explore the vibrant market offering a wide range of handicrafts, clothing, accessories, and local delicacies. It's a great place to shop, indulge in delicious street food, and experience Goa's lively atmosphere.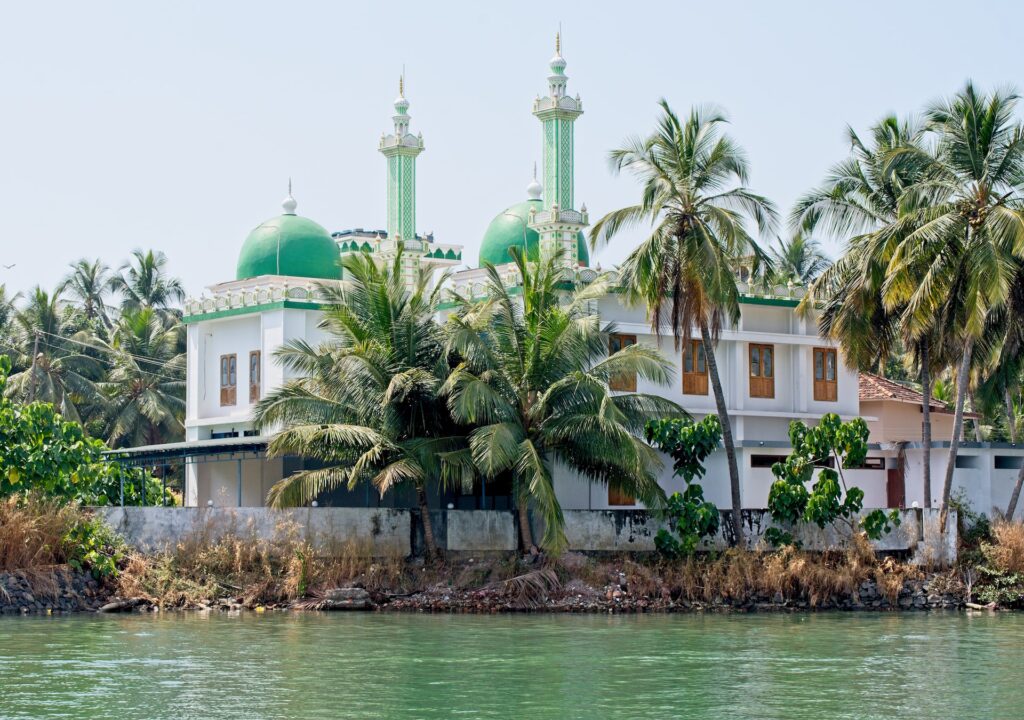 Photo from Unsplash
Mountains of Historic influence
Sonsogor is the highest peak in the state of Goa, India, at an elevation of 1,026 metres (3,366 feet) above sea level. With beaches and mountains to discover it's got everything. Goa is a state in western India with coastlines stretching along the Arabian Sea. Although popular for tourist it is also great off peak. Goa and two other former Portuguese enclaves became the union territory of Goa, Daman and Diu, and Goa was organised into a single district in 1965.
From my experience Goa is more expensive than mountain areas of Kerala and Goa has it's own culture focused largely on tourism. So, if you are looking for authenticity head for the mountains, because you will only see small slices of Authentic Indian culture in Goa coastal areas as it caters for the tourist. It is heavily Portuguese influences comes from recent history, not thousands of years old but hundreds of years.
PORTUGUESE Influence
Going back in history, just to put it into context, the Portuguese invaded Goa in 1510, defeating the Bijapur Sultanate. The Portuguese rule lasted for about 450 years, and heavily influenced Goan culture, cuisine, and architecture. Therefore food is Portuguese influences but some menus are very westernised. On the other hand they are trying very hard to make you feel welcome.
Goa is a place you go to be on the beach side, but you can take the train through the mountains which is well worth doing in india not just in Goa. The trains are crowded and you can't really get organised seating to be mindful of this if you are thinking of doing longer journeys. I would recommend taking a short trip first to understand how it works. You could meander through the entire country if you had time and the incling and something I would love to do.
Photo Goa beaches
Fort Aguada is just a short distance from Candolim Beach, Fort Aguada is a well-preserved 17th-century Portuguese fort that offers stunning views of the Arabian Sea. Explore the fort's architecture, walk along the ramparts, and learn about its historical significance.
Reis Magos Fort is another historical fort that provides panoramic views of the surrounding landscape. The fort has been restored and houses a cultural center and art gallery where you can learn about Goa's rich heritage.
If you are into exploring temples, pay a visit to the Shri Shantadurga Temple, located near Candolim. This beautiful temple dedicated to the goddess Shantadurga showcases traditional Goan architecture and offers a peaceful and spiritual experience.
India For the foodies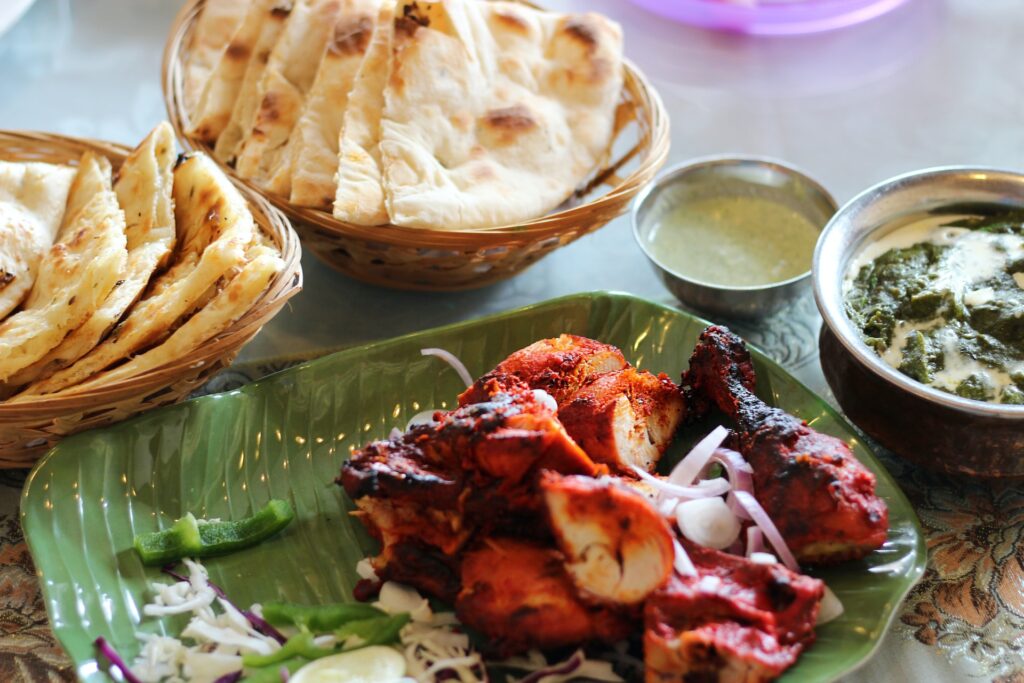 Photo from unsplash
These are just a few highlights of things to explore and do in Aguada and Candolim, in Goa that I experienced and that I think you might enjoy them too. And you can walk for miles on the beaches and streets stalls with teas and spices and lots of bars to enjoy a beer on the beach on sunset.Of course the local food is beautiful if you like curry so explore the culinary delights of Goan cuisine. Indulge in mouthwatering seafood dishes like Goan fish curry, prawn balchao, and crab. Don't forget to try the traditional Goan dessert, bebinca.
Try a rum Tandoori Chia from the Cafe Aguada (recommended) which you will find on the way to the Fort Aguada a street stalls at the fort Aguada which is really special. Whether you're seeking relaxation on the beach, adventure in the water, or cultural experiences, Goa offers a delightful blend of attractions and activities.
The bars and food huts are all along the beaches in some areas. In India of course you need to be careful to wash the fruit and Veggie's so when eating out I would steer away from fresh salads unless I prepared it myself. I would mostly have cooked curries and hot meals. And no ice in drinks generally.
On the beaches in Goa you can sit at a bar and have a drink you can have dinner on the beach with your feet in the sand and watch incredible sunsets. What you experience on the coastal cities is not the same culture experience as the mountains villages, and the major cities has pockets of religious influence, so here is a bit about the cultural differences so you can understand better.
cultural experiences & DIFFERENCES with Goa Vs Kerala
Photo from unsplash
You will notice cultural differences when traveling in Goa and Kerala. When travelling to these areas I noticed that in some places you can not just purchase a beer or sit at a bar but in others you can so here is a little bit about why you will experience some differences in the two regions.
Cultural experiences in Goa and Kerala differ due to various factors, including religion and alcohol permissions. Here's a comparison:
Religions
Goa: The majority of the population in Goa follows Christianity, as the state has a significant Portuguese influence from its colonial past. You can find numerous churches and cathedrals, such as Basilica of Bom Jesus and Se Cathedral, which are architectural marvels and important pilgrimage sites.
Kerala, on the other hand, has a diverse religious landscape. The majority of the population follows Hinduism, while Islam and Christianity are also practiced. Kerala is known for its temples, such as the Padmanabhaswamy Temple and Guruvayur Temple, as well as mosques and churches.
Muslim religion according to the 2021 census makes the muslim religion 26.56% of the total population of Kerala. This makes Kerala a state with a relatively high proportion of Muslims.
Beach bars on goa beachs are everywhere. Photo
Alcohol Permissions
Goa is famous for its liberal alcohol laws compared to other states in India. You'll find a wide variety of alcoholic beverages available, and there are numerous bars, restaurants, and beach shacks where you can enjoy a drink. The legal drinking age in Goa is 18 years.
Kerala has more stringent regulations on the sale and consumption of alcohol compared to Goa. While alcohol is available in Kerala, the number of outlets and establishments serving alcohol is relatively limited. The legal drinking age in Kerala is 21 years.
Attitudes towards Alcohol
Goa: Due to its tourism-centric nature and a more relaxed approach to alcohol, Goa tends to have a vibrant nightlife culture. It's not uncommon to find beach parties, music festivals, and nightclubs where alcohol is served. However, it's always advisable to drink responsibly and be aware of local customs and regulations.
Kerala, being more conservative in its approach towards alcohol, generally has a quieter nightlife scene. There are select bars and hotels where alcohol is served, but the atmosphere is more relaxed and focused on socializing rather than partying.
Overall, while both Goa and Kerala offer unique cultural experiences. Goa tends to have a more cosmopolitan and liberal atmosphere, influenced by its history of Portuguese colonization and vibrant tourism industry. Kerala, on the other hand, has a more traditional and diverse cultural fabric, influenced by its religious practices and a slower pace of life.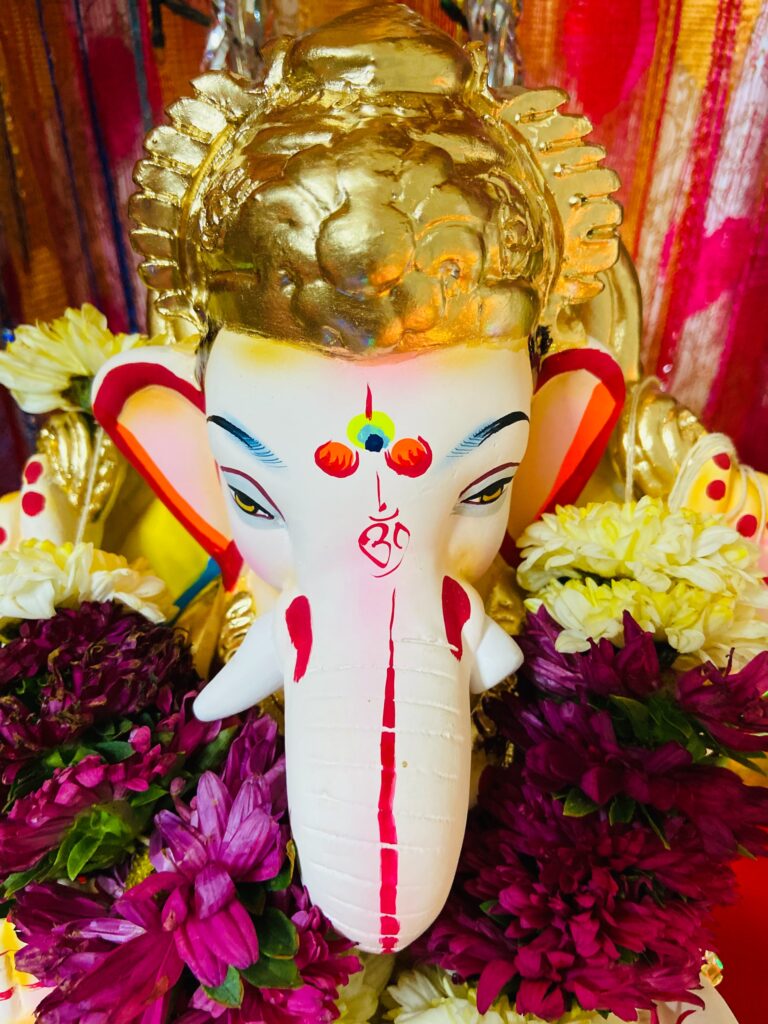 Photo from Unsplash. Ganesha is known as the remover of obstacles and the offspring of Shiva, the Hindu god of destruction.
Where to Next? Don't forget your visa
The where to next also encompases Visas. So I will wind up this huge blog with how to get visas. Just a few days out I bought my visa online.
It was super easy and I bought myself a year visa, but it does depend on your passport to check it all out regarding your residency.
Also ensure that you have the right shots for Typhoid etc. I also had those needles done a few days out (not recommended because I felt like a pin cusion) Because if you want the Hepatitis shots you will need to plan ahead. As a digital nomad myself I probably travel to about 12 or so countries a year (thats easy to do in Europe) and I am always keen to explore a new place I have never been before so that includes insurance, visas etc so be prepared.
I hope this information is of use to you on your travels, but if you want to join a community and ask questions before you head off on your digital nomad journey then come and join us here at Digital Nomad Explorers Co is a community for nomads which specialises in Accomodation for Nomads. Please note that I personally Stayed with these stays I am recommending, so I stand by my recommendation.
STAY Awesome and adventure on! See you somewhere in the world.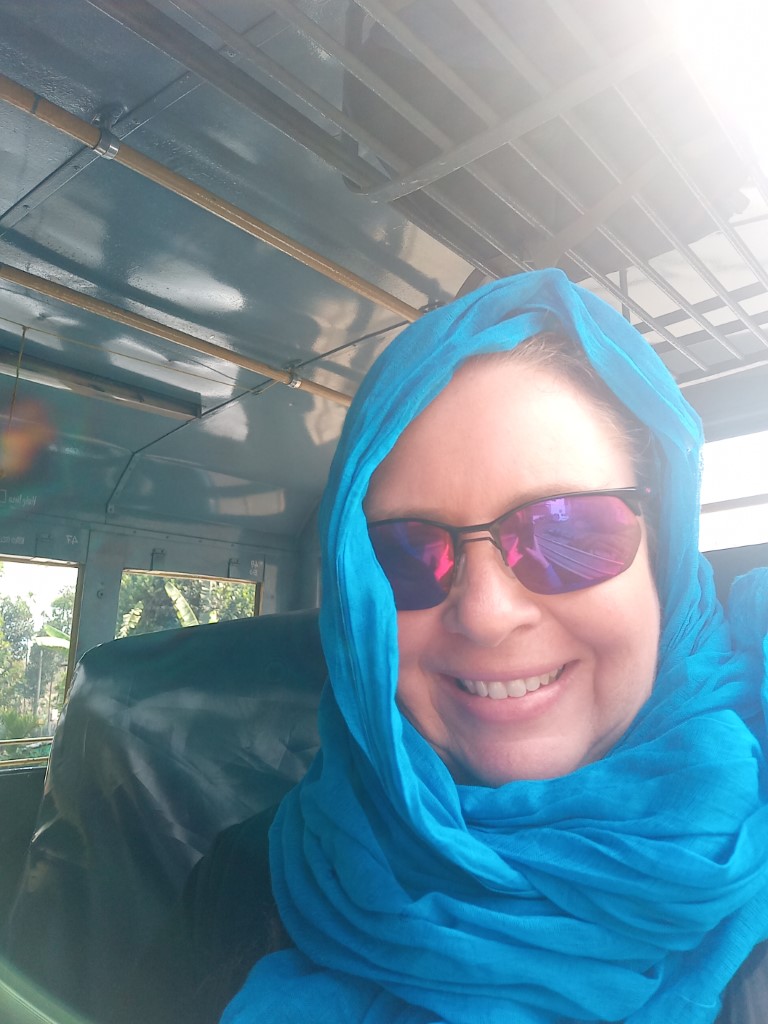 Hi, I am Linda the Cofounder of Nomad Stays and I am passionate about travel and have made it my lifestyle full time. If you would like to follow or connect with me here on LinkedIn. I love to share my travels and experience as I travel. Having traveled to over a hundred countries, one question I get often is "what is the best place you have ever been" and my answer is always?" for me "it's not about the place for me it is about the people and the experiences they create." That's what makes a place. Currently, I am in Slovakia and it's been a fantastic experience and pretty as a picture. Where to next? Who know's, I might see you there!