Discover South Korea: A Digital Nomad's Guide to Unveiling the Best Experiences
South Korea for digital nomads, a captivating country undiscovered is the goal of an explorer! Let us unveil this vibrant country, renowned for its rich history, technological advancements, and breathtaking natural landscapes, offers an incredible array of opportunities for remote workers seeking adventure and inspiration. In this blog, we'll delve into the best things for digital nomads to explore in Korea, from bustling cities, here to find events and coworking spaces and even where to stay as we take the veil off a new Temple Stay experience. Let's embark on a virtual journey that will unveil the best experiences in Sth Korea an inspire you to pack your bags and your laptop and head to this dynamic destination!
Discover South Korea and it's best experiences. This is a very personal but it's always helpful to get a scope of the land with a few ideas up your sleeve to help you explore more while you spend a month immersing yourself in the Korean, food, traditions and culture. Personally I get excited about the food and the ancient history and traditions. It is different for each of us.
S(e)oul explorers, here we go…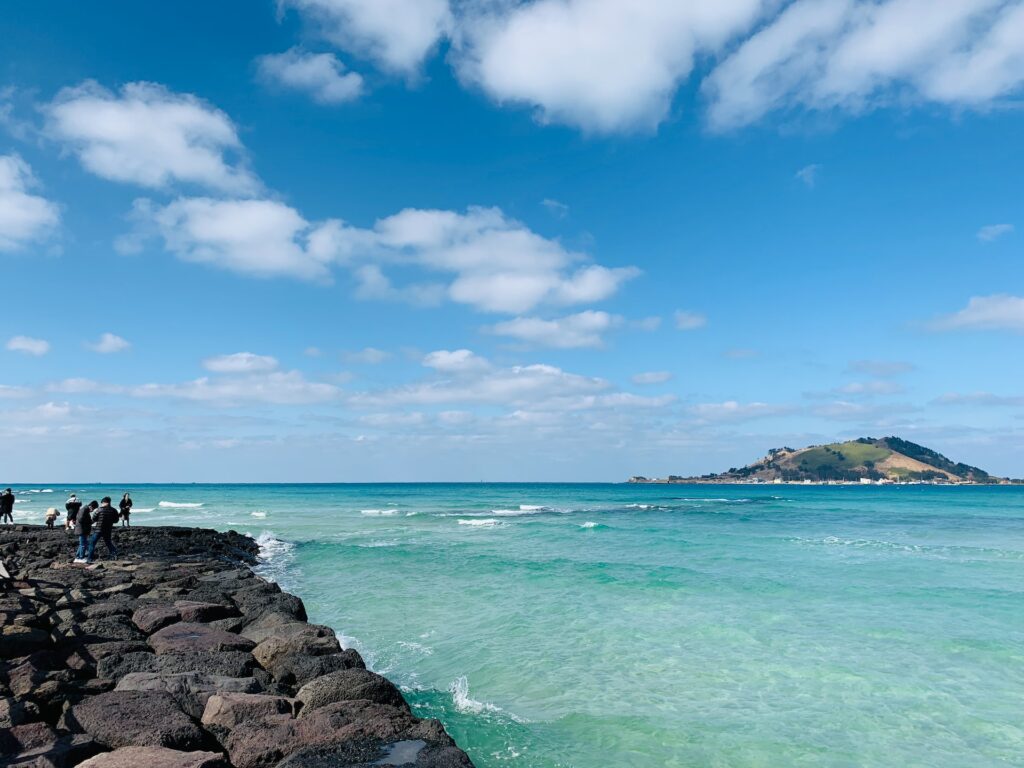 Photo of Jeju Island by Jieun Lim
Spending a month or three in one place (depending on visas) is a great way to explore while working from places like South Korea. There is a special connection to each place you visit and it is usually the people not the places. However, sometimes a place can really resonate with you unexpectedly and you might find yourself staying longer and even finding community they you enjoy.
As a full time traveller it's great do some research on visas and traditions of a culture so that you don't offend anyone or get deported (Yes, it has happened to me in Japan by not checking details so do your homework before you go). So here are some ideas to expand connection and inspire you in more ways than one.
The city life of Seoul is a modern metropolis to Start your Korean adventure, it is a dynamic city where traditional culture effortlessly merges with cutting-edge technology. As a digital nomad, you'll find an abundance of co-working spaces, coffee shops, and innovative start-up hubs. Explore the vibrant neighborhoods of Hongdae, Gangnam, and Itaewon, each offering a unique blend of culture, cuisine, and entertainment. Don't miss iconic landmarks like Gyeongbokgung Palace, N Seoul Tower, and the lively shopping districts of Myeongdong and Dongdaemun.
Beaches & Islands
Discovering the beaches and islands of South Korea is not what was expected on the offerings of this country in my mind but here it is. If you are looking for beaches and beyond for a change of scenery, head to Busan, Korea's second-largest city and a paradise for beach-loving digital nomads. Embrace the stunning coastline and soak up the sun at Haeundae or Gwangalli Beach. Discover the bustling Jagalchi Fish Market, visit the beautiful Gamcheon Culture Village, and hike up to the magnificent Haedong Yonggungsa Temple. Busan's laid-back atmosphere and welcoming locals make it an ideal place for both work and play.
For a Nature fix and paradise escape from the mainland you can venture to Jeju Island, a UNESCO World Heritage site and a true natural wonder. This volcanic island offers breathtaking landscapes, including stunning waterfalls, majestic cliffs, and picturesque beaches. Take a hike up Mount Hallasan, explore the mesmerizing Manjanggul Cave, and enjoy the soothing ambiance of Seongsan Ilchulbong, also known as "Sunrise Peak." With its tranquil atmosphere and captivating beauty, Jeju Island is a digital nomad's haven.
Museums, temples & discovery of a culture
If you are a culture seeker then head for Gyeongju for a timeless treasures experience, known as the "museum without walls," Gyeongju is a city steeped in history and a must-visit destination for culture enthusiasts.
You can take some time to immerse yourself and spend a few weeks if not a month or so to experience more than a tourist and really discover the essence of this culture. Give yourself the time to immerse yourself in the ancient Silla Dynasty as you wander through the enchanting Bulguksa Temple and explore the sprawling grounds of the Gyeongju National Museum. Discover the royal burial mounds at Tumuli Park and rent a bicycle to explore the historic sites scattered throughout the city. Gyeongju's rich heritage and serene atmosphere make it an ideal place for remote work and gives you time and space for reflection.
Korea for digital nomads offers, a blend of ancient traditions and modern marvels, is a captivating destination for digital nomads seeking inspiration and adventure. From the bustling streets of Seoul to the tranquil landscapes of Jeju Island, this vibrant country offers a wealth of experiences that will leave you awestruck.
Coworking spaces in South Korea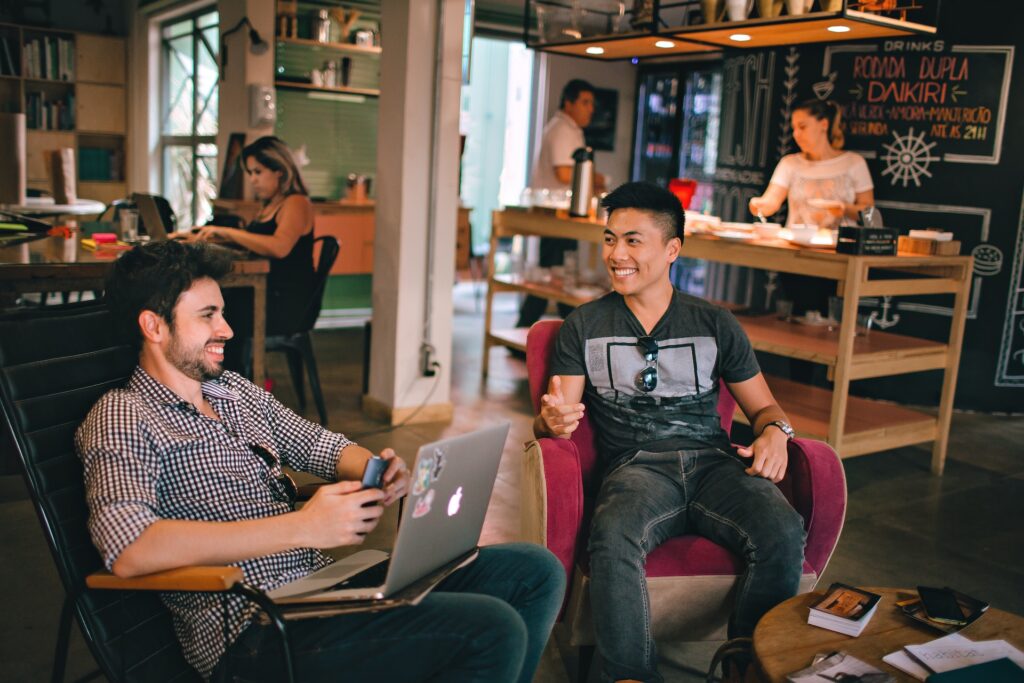 Picture by Helena Lopes
As a digital nomad you coworking spaces are helpful so we put together a list of coworking spaces so that you can explore more and find community.
Here are some notable coworking spaces in Korea that cater to the needs of digital nomads:
WeWork (Multiple Locations) With multiple locations in Seoul and Busan, WeWork provides a vibrant and professional environment for digital nomads. Their well-designed spaces offer amenities such as high-speed internet, private offices, meeting rooms, communal areas, and networking events.
Maru 180 (Seoul) Maru 180, located in the heart of Seoul, offers a creative and collaborative workspace for digital nomads. The space features a mix of open workstations, private offices, meeting rooms, and a spacious lounge area. Amenities include high-speed internet, printing facilities, a pantry, and regular community events.
Hive Arena (Seoul) Situated in Gangnam, Hive Arena provides a trendy and modern coworking space with a focus on community and networking. The space offers comfortable workstations, private offices, meeting rooms, event spaces, and a communal kitchen. Additionally, they organize various workshops, seminars, and networking events.
Fastfive (Seoul) Located in the Hongdae district of Seoul, Fastfive is a popular coworking space for digital nomads and entrepreneurs. The space features a relaxed and inspiring atmosphere with comfortable workstations, meeting rooms, event spaces, and a cozy lounge area. They also host regular networking events and workshops.
Open Square (Busan) Open Square is a prominent coworking space in Busan, offering a productive environment for digital nomads. The space provides flexible workstations, private offices, meeting rooms, and communal areas. Amenities include high-speed internet, printing facilities, a café, and a terrace with a panoramic view of the city.
Sparkplus (Multiple Locations) Sparkplus has several locations in Seoul, including Gangnam, Yeoksam, and Gwanghwamun. Their coworking spaces feature modern designs, spacious workstations, meeting rooms, event spaces, and a café. They offer flexible membership options to accommodate various needs.
Remember to check each coworking space's website or contact them directly for updated information on availability, pricing, and amenities. These coworking spaces provide an ideal setting for digital nomads to work, connect with like-minded professionals, and be part of a dynamic community while exploring the wonders of Korea.
Digital Nomad Events of interest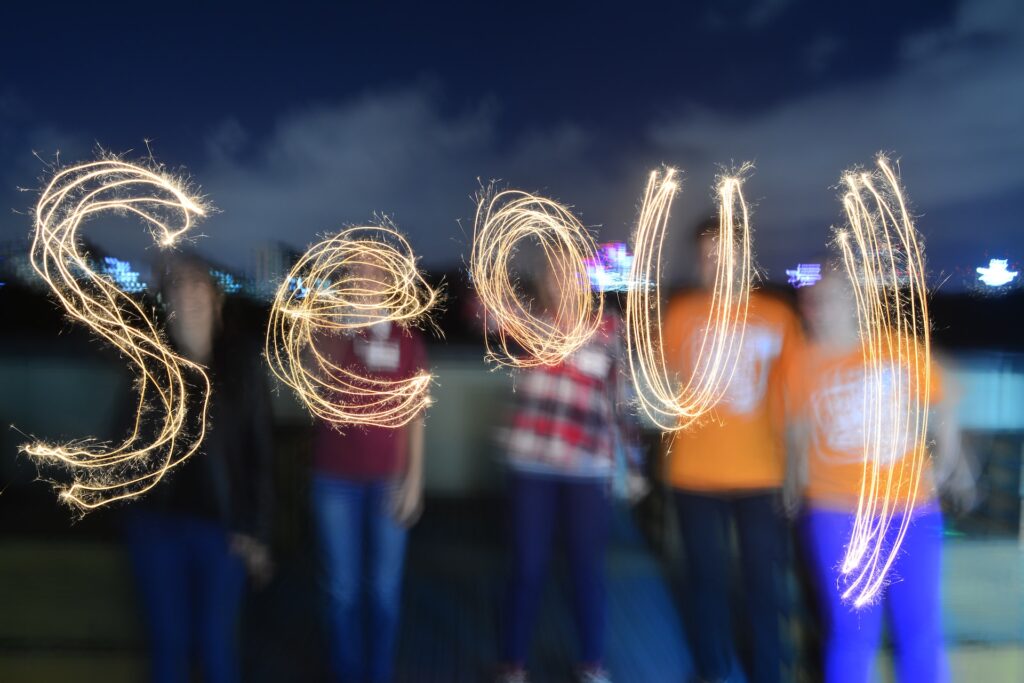 Photo by Sujin Lee
Digital nomads want to immerse themselves learn and have an insatiable curiosity, because it is their life they are not looking through the tourist mindset rather the deep interest learning mindset and events are a great reason to come and learn more. So we got together a list of great some events that will help you discover some fun and help you get a cultural experience, meet people and maybe give back to community which is the main point of travel.
some events in Sth Korea for digital nomads
Here are some events in South Korea that might pique the interest of digital nomads be aware that some events maybe only biannual or have changed since this was written so I have left some links for you to get some guidance:
Busan International Film Festival (Busan) The Busan International Film Festival (BIFF) is one of the most prestigious film festivals in Asia. It attracts filmmakers, industry professionals, and film enthusiasts from around the world. Digital nomads with an interest in the film industry can attend screenings of international and Korean films, participate in workshops, and engage in networking events with filmmakers and industry experts.
Boryeong Mud Festival (Boryeong) The Boryeong Mud Festival is a unique and fun-filled event held in Boryeong, known for its therapeutic mud. Digital nomads can participate in mud-based activities like mud wrestling, mud slides, and mud baths. It's a fantastic opportunity to let loose, have fun, and enjoy a memorable experience with fellow travelers.
Jeonju International Film Festival (Jeonju) The Jeonju International Film Festival (JIFF) is renowned for its focus on independent and alternative cinema. It attracts filmmakers, cinephiles, and digital nomads who appreciate artistic and thought-provoking films. Attend screenings, engage in discussions, and explore the charming city of Jeonju while immersing yourself in the world of cinema.
Chuncheon International Mime Festival (Chuncheon) The Chuncheon International Mime Festival is a fascinating event that celebrates the art of mime and physical theater. Digital nomads can enjoy captivating performances by renowned mime artists from around the world. The festival also features workshops and interactive sessions, allowing participants to learn and explore the art form themselves.
These events provide fantastic opportunities for digital nomads to engage with different industries, connect with like-minded individuals, and immerse themselves in the vibrant cultural scene of South Korea. Remember to check the event websites for the most up-to-date information, including dates, locations, and ticket availability.
Seoul Events only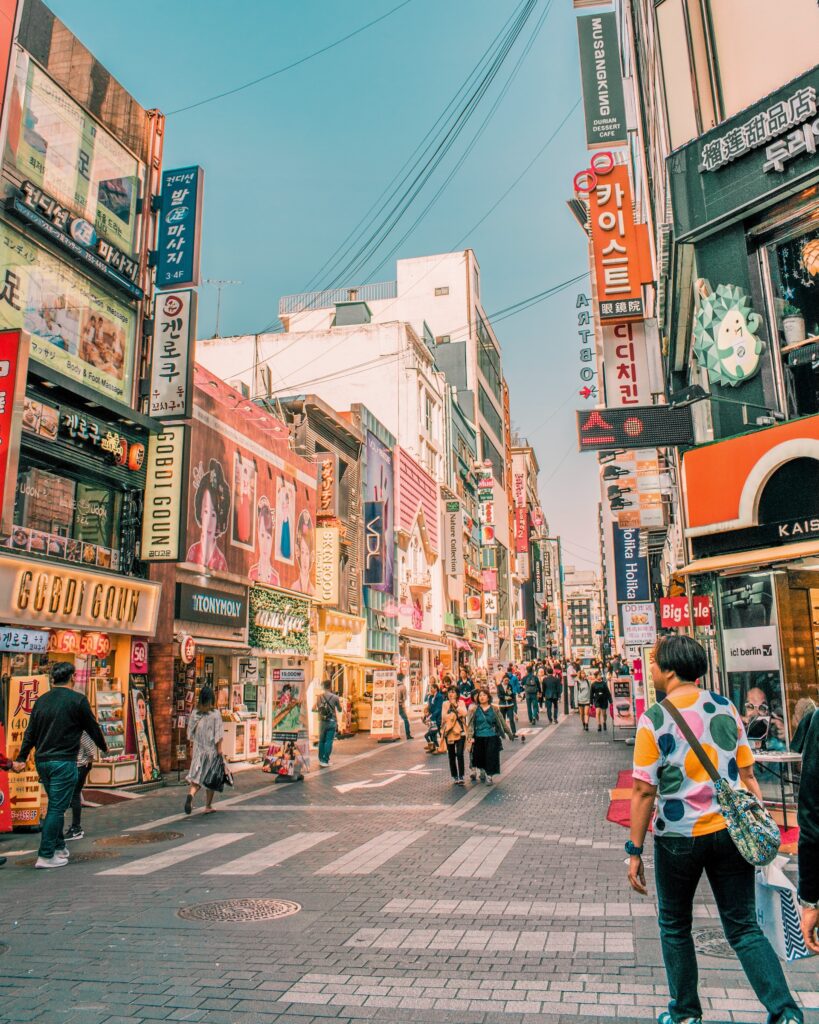 Photo by Cait Ellis
If you only want to go to Seoul events then here are the ones to lookout for especially if you are a Startup, Fashion, film industry or a foodie.
Let's focus specifically on events in Seoul, South Korea that digital nomads would find interesting:
The Seoul Lantern Festival is a visually stunning event held along the Cheonggyecheon Stream. Digital nomads can witness the mesmerizing display of lanterns, each telling a unique story and representing different cultures and themes. The festival offers a magical atmosphere and is a fantastic opportunity for photography and cultural immersion.
The Seoul International Fireworks Festival is a spectacular event that illuminates the night sky with dazzling fireworks displays. Digital nomads can gather at the Han River Park to
Seoul Startup Festival (Seoul) The Seoul Startup Festival is a dynamic event that showcases the startup ecosystem in Seoul. It brings together entrepreneurs, investors, industry experts, and digital nomads interested in innovation and entrepreneurship. The festival features keynote speeches, panel discussions, pitch competitions, networking opportunities, and workshops on various startup-related topics.
Seoul Fashion Week (Seoul) For digital nomads with a passion for fashion and design, Seoul Fashion Week is a must-attend event. It showcases the latest trends in Korean fashion and provides a platform for emerging designers to showcase their talent. Attend fashion shows, visit pop-up shops, and immerse yourself in the vibrant fashion scene of Seoul.
Meet the StayS at Nomad Stays – Justbe Temple Stay in Seoul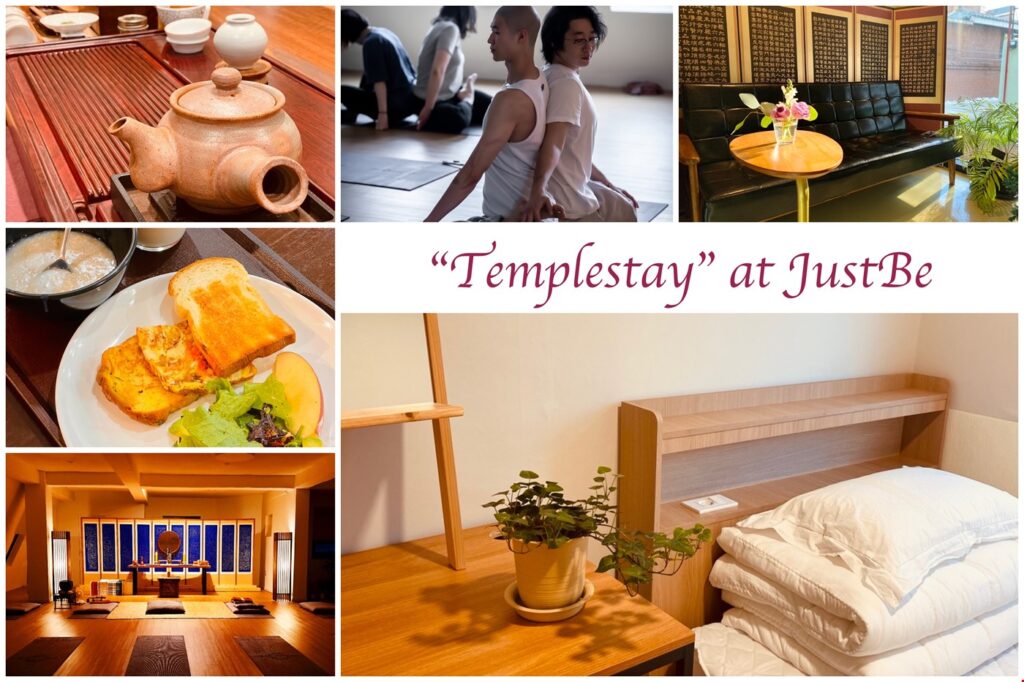 Photo collage by Justbe Temple Stay
Justbe Temple Stay in Seoul, the temple stay experience itself offers a unique and enriching opportunity for digital nomads. Engaging in a temple stay allows you to immerse yourself in Korean Buddhist culture, find inner peace, and gain insights into mindfulness practices. Here's what you can expect during a temple stay:
Meditation Sessions: Participate in meditation sessions led by experienced monks or nuns. Learn different meditation techniques, practice mindfulness, and experience a sense of tranquility and self-reflection.
Temple Etiquette and Ceremonies: Discover the customs and rituals of temple life through guided tours and lectures. Gain a deeper understanding of Buddhism, its teachings, and how they are integrated into daily temple routines.
Buddhist Chanting: Engage in Buddhist chanting sessions, where you can experience the power of collective prayer and immerse yourself in the rhythmic sounds and melodies of traditional Buddhist chants.
Temple Cuisine: Enjoy mindful eating through temple cuisine, known as "balwoo gongyang." Experience a traditional Korean temple meal, which is not only vegetarian but also focuses on simplicity, mindfulness, and gratitude.
Cultural Activities: Take part in various cultural activities such as tea ceremonies, lotus lantern making, calligraphy, and traditional temple crafts. These activities offer a chance to connect with Korean traditions, express your creativity, and foster a sense of inner calm.
While Justbe Temple Stay has specific events the main value that you get from this temple stay is community, guidance and culture. It provides a unique opportunity to experience Korean Buddhist culture, engage in self-reflection, and find solace in the midst of the bustling city of Seoul. A great place to grab the team and remote work here to create a project while rejuvenation and connection occurs on a personal level.
in CONCLUSION
So, pack your bags, set up your next remote office, and get ready to embark on a journey that will enrich you both professionally and personally. Korea awaits you, ready to unveil its treasures! But what about places to work from and a digital nomad or remote worker. The following list is of Coworkings spaces but be aware some may or maynot be relevant as during Covid 19 as we all know some businesses did not survive the disruption so please be aware this list may change in the time you read this to the time you go there. It's always good to check before going or there might even be more. So I can only hope this helps a little.
I HAVE A CONFESSION TO MAKE…
OK, it's truth or dare time. The truth is with full transparency and disclosure I confess and dared to write this blog with the assistance of CHAT gpt. Secondly with the fact that I have not yet been to Sth Korea. I know I know!! The audacity… but the people here at the Temple Stay are real and we interviewed them for you to meet too. However, my real hope is that you go and get lost (it's the best way to find something unexpected) in Sth Korea and discover it for yourself, discover something about yourself and have deep and meaningful experience that you will never forget. So at least I can set you up with the right stay to experience Sth Korea. I wish you great discoveries and adventures.
As I mentioned we did interview this Temple Stay live on instagram for you to meet them first hand. Discover the interview with this Stay by the founder of Nomad Stays here and meet the stay.
Where to next?
Discover new places to Stay for a month or a week and grab the best deals and follow the deals around the world. Engage in community. And most of all STAY awesome! I am currently in Slovakia, off to Poland, and Austria on my way back to France. What about you? Adventure on!
Written by Linda McCall (with the assistance of Chat gpt)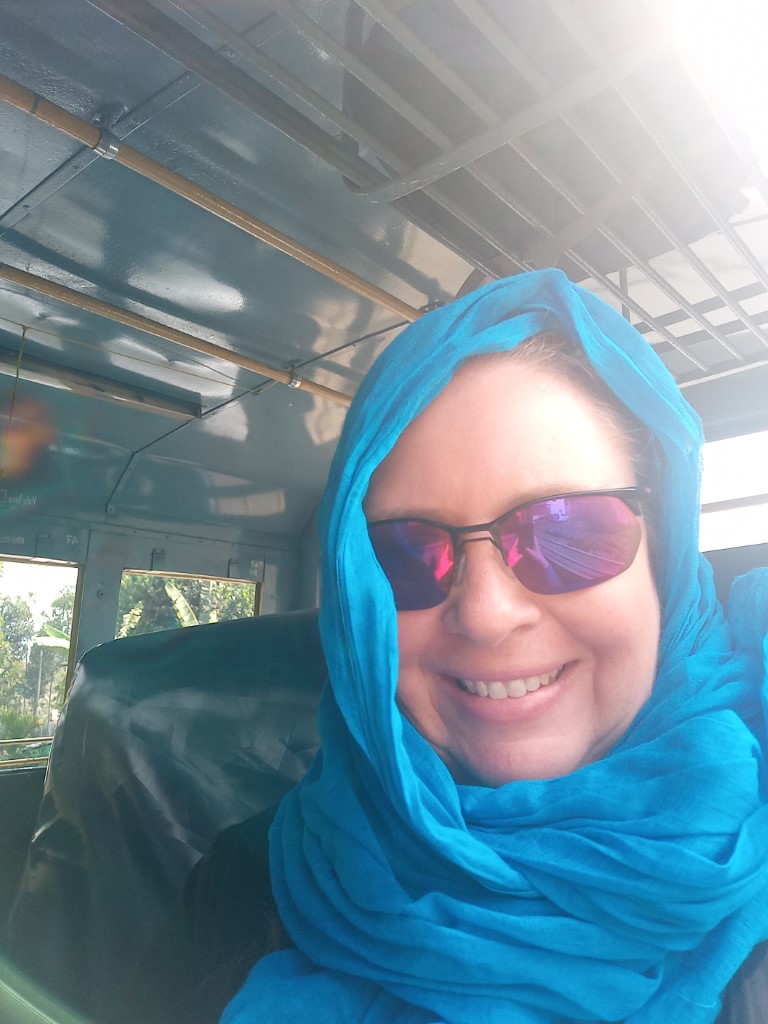 Meet Linda McCall the cofounder of Nomad Stays and dedicated full-time traveller of 9 years. Traveling as a digital nomad brings it's challenges and is also filled with many rewards. A wannabe writer (but terrible grammar skills) passionate about history and discovering stories or our planet. Exploring what's possible. This Photo (selfie) was taken while traveling in the Southern part of India recently (April 2023).