How I became a Solo Female Digital Nomad – Immigrant Woman Entrepreneurs
Welcome to another "Meet the Nomads" where we chat to a digital nomad living a full-time journey and working lifestyle. We discovered Salou as she interacted in the Digital Nomad Explorers community. So we sent the team out to see if she would like to share her story with us. Evie went off (virtually) to arrange a chat with her and the rest of the story. This interview is hosted by Evie Jennings our remote digital intern and enjoy our lovely digital nomad guest in the hot seat Salou – An immigrant woman entrepreneur & digital nomad.

Evie: I had a chat with Saloua Ibaline who shares with us some insight and tips on how she became a digital nomad, Wrote a book and started a Youtube channel, became a business coach and galavants around the world.
Watch the interview either on our Instagram Travel guide on the live interview or our youtube.

If you prefer to watch the interview here it is:
https://youtu.be/7AiJrXrhzWE
Meet the Nomads – Introduce yourself
I am a full-time digital nomad, it's going to be three years in April….
I am a certified business coach. So what I do is I actually help people launch their online business so that they can be location independent.
I also published a book and I'm also very big on YouTube.


Where are you right now?
I'm in Chicago right now.


Tell us some more about your book

'Immigrant Women Entrepreneurs', it took me three years to do this, it was a long time.
But this book is basically the stories of immigrant women entrepreneurs in the US…. We share their stories, but we also talk about the struggles as an immigrant, and also how to start a business in the US…. I think it's a very inspirational book and I'm really happy that I finally did it because there are so many ups and downs when you write a book….
We launched in September and that's available everywhere, on Amazon, on my website, and so on. 
So I was planning to eventually share my story because as I got older I realised, wait a minute, I didn't have a normal childhood and all my decisions that led me to the US were based on my story as an immigrant.

Because I was already an immigrant in Belgium, I was born in Morocco, raised in Belgium and then from Belgium I made my way to the US when I was 20 years old, and it was so much, I mean I have so many stories about that. … I was wondering, you know, how do we do it? Like how do other women who move here do it by themselves? It must be very challenging for them as well.

So as I started writing and talking about the book a lot of people came forward and they were sharing their stories with me and I find it fascinating on, you know, many levels….
So yeah, it was a long time thinking, …. and it was great.

To honest I didn't think I could pull it of this nomad lifestyle, but here I am building a business while travelling the world
How do you build a community as you travel?
First of all when you travel full time, it's one of the downsides, you can't really build long‑term, deep connections with people…
And that includes relationships…
What I do is I usually post it on Facebook…. Then we meet up for coffee and I build friendships that way.
I've also met a lot of friends through Bumble Friends.… I would go to events and then I would host my own events….
So I would go to a co‑working space…… then I meet a lot of people that way and I also meet clients that way.


Do you travel a lot outside the US?
… I was gone (from the US) for two and a half years….
I mean I've gone to many, many places; I think 25 countries total.
I've done South America a little bit, only Peru and Nicaragua, and then I've also done Turkey, which is considered Europe‑ish.
Then during Covid, I got stuck, but I really enjoyed it, I got stuck in Morocco for 6months, so that was really cool.
Then I came back here.
What did you do when you were stuck in Morocco?
Well, to me, it was not bad for me. I said, you know what I haven't been here as an adult for that long, and I'm gonna really get to know my country. So I travelled extensively in Morocco….
So I did six major cities where I stayed extensively, … And along the way, you meet people and they're still with you.
So it's like which one do you want?

Do you want a steady life where you can build long‑term relationships? Which is also great, or do you want to wander around and then hop up and meet loads of different people?

I think it takes a really strong mindset, not a lot of people can really do that, like pick up and go it's not that easy, and you're often on your own. I mean, I am, you know.

Does it get lonely?
I have my moments, you know, where I get into a place where I'm like 'oh my god' like 'I feel alone and this, but I'm very solitary and I actually enjoy my time, like by myself.

It's just interesting because I feel like I am an extrovert, like a super Type A personality, but I think I'm also a bit of an introvert.….
I know how to say no and I really listen to my intuition and how I feel about things I'll have a conversation in my head when I'm like 'do we really want to do this?', and I'm like 'hmm we'll stay home today, and that's cool.

What has been your favourite experience as a digital nomad?
I really, really enjoyed Lisbon. Lisbon is on the top of the list for me.….
I mean if I ever settle somewhere in Europe, I think it would be Lisbon, because it has everything I'm looking for, for me.
You know, as far as well there's diversity, which is super important because I'm a woman of colour, you have to remember that.… and then culture is so rich, the food, the people, the music, it's very affordable, the weather….
….. I really love Berlin, like Berlin in the summertime is really cool. I love the free mindset of people….


Do you prefer extended stays?
Yep, yes so definitely I do many things to find accommodations but I would always go for a minimum of a month, and then up to three months in one place…..
I've learnt that less than a month is really not enough time…
It's not good for your body and your mind, you know, in order to run a business you need, I need, to have a routine, and so even if it's one month, you know by the time my body gets into the right time zone, everything changes the air, the food, you need time for that to help.

Have you learnt any languages in your time as a nomad?
No, but when I travel there are some places I went where they didn't speak English at all, like Romania for example.
I think what you need to do is show that you are willing to communicate with people. … I would always learn a couple of words 'hi', 'how are you', 'excuse me', 'please', … So people are willing to speak even if you don't really speak the language, and then google translate offline.
I use this a lot, especially to read menus. 

We hope you enjoyed the interview and found some useful tips to take away. We seek to inspire you with real stories from people living and working on the road. Stay awesome and adventure on!

Finally, watch the interview in full here:
Find out more about Saloua's journey and her top tips for digital nomads (including specific tips for female solo travellers).
Visit Saloua's instagram, youtube and check out her website, book and her coaching:
IG: @salouaibaline
Youtube: Saloua Baline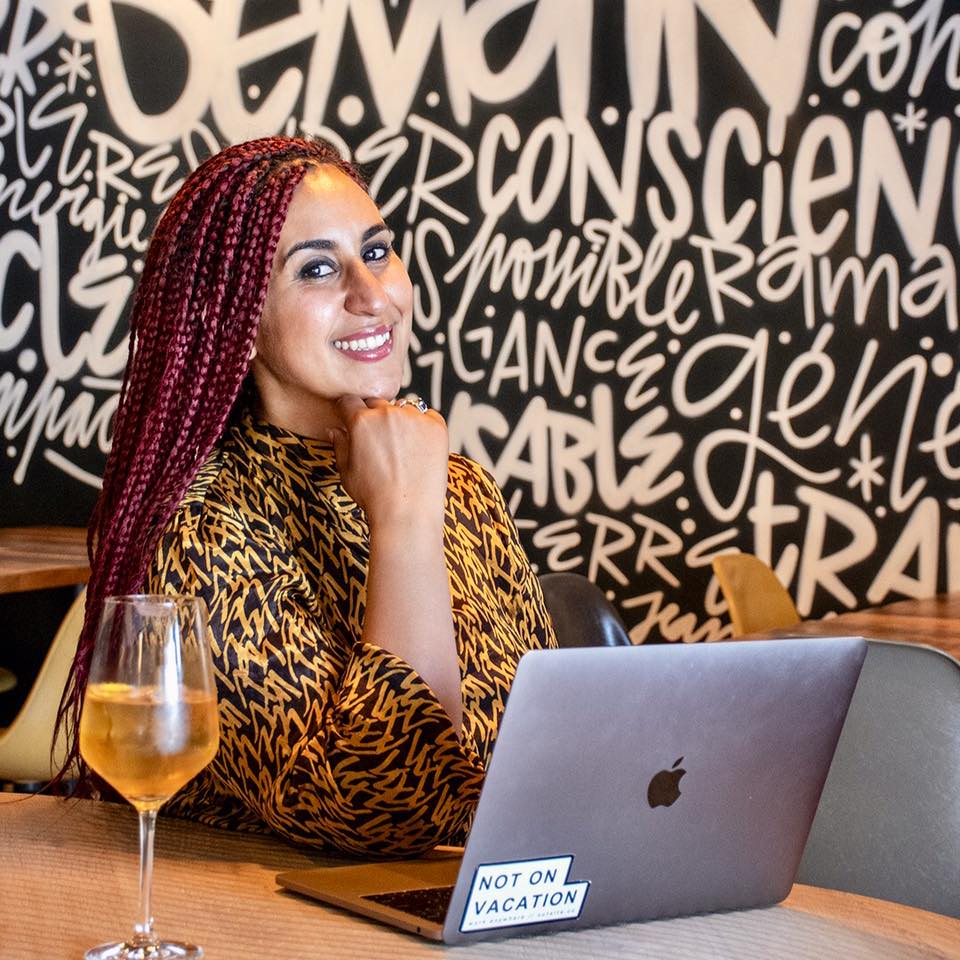 Meet Saloua
Saloua Ibaline is an accomplished Social Media Strategist is an international serial entrepreneur, she understands the strategies required to connect brands to their customers through platforms like Google, Facebook, Instagram, Youtube, Linkedin, and the like.
Saloua started her career by growing and managing a $3.14 million book of businesses for Google Adwords. In 2017, after her success at Google, she decided to launch her own Social Media Marketing Agency, Ibaline Media which helps small businesses and solopreneurs, develop social media content strategy… See more on her LinkedIn & connect with her.
Website and coaching: http://www.salouaibaline.com/index.html#
Interviewed and written by: Evie