How My Travelling Changed When I Fell in Love… With Surfing
The mystery of knowing yourself
There is something mysterious about knowing yourself and how love influences profoundly your being. Did it ever happen to you to think you knew who you are and suddenly you fall in love and everything changes?
From that moment of falling in love; you are a wonderful, different, completely new person and all that matters is to keep that feeling inside of you as long as possible and the fear of losing it makes you unable to breathe at times. That can happen with a relationship, a home, a city, a passion, anything. For me, it was surfing.
I have always been a traveller and a nomad, looking for adventures, but when I encountered surfing the way I travelled changed completely and it also changed who I was.
When you are in love you can't think of anything else. The centre of your world becomes that person or thing you are in love with. When it's not there you miss it like it is the oxygen you need to live. You miss the smell of it, you miss the way it makes you feel. You spend most of your time thinking about how it will be like the next time you see each other.  And you ask yourself questions like:
Will it be the same as before?
How will it make you feel?
What new emotions will you experience?
The drug
It is Surfing. It becomes like a drug, as the more you have it, the more you want it. You are desperately searching in your head for all the ways to see each other again. When you know that you will see it again, the time that separates you will seem infinite. Yet, when you are everything together stops, time no longer exists.
This is my love story with the ocean and surfing.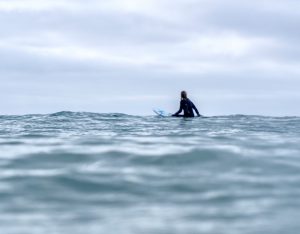 Travelling before surfing
My exploration of the world has always been outside the water. With my eyes and my heart looking for enlightenment.
The adventure of going to remote places out of everyone else's comfort zone was what would keep me alive. The Himalayas have always been a great attraction for me, but not only them. The explorations of tribes in the Philippines before tourism, driving through the Arizona highlands to study the behaviours of the native Americans integrating into modern society, driving around Costa Rica with a drug addict trying to be as far away as possible from the military always ready with their machine guns, was a few things I was experiencing at the time. On top of that was my craving for spiritual exploration and my volunteering addiction to save the world. While I was living all those lives I would write about them. As I was writing I would re-live everything a second time.
A great Italian writer and journalist once said that "writing a diary is like living twice". He was right. Every time you put on paper your experiences and your days, you are reliving them, and most of the time, while you are writing, it will be like watching your life as an observer and you will have the chance to heal all your still hurting emotional wounds.
Writing a diary is like living twice.
We all want adventure and my craving has grown. The more I was living it! I tried to always travel and when I couldn't do it physically I would take refuge in the travels of Hemingway, Tiziano Terzani and in mine while rewriting the stories.
Every time I was back at home, and simple and mechanical gestures like changing the garbage were starting to bother me, that was when I would book the next flight.
Travelling has always been a constant adventure in my life wherever I was, I would try to travel in any way possible, even in my own town.
The banality of changing a garbage bag, makes me realise how ordinary life is not for me. Travelling has always made me search for adventures, deep emotions, silences, looking for the ego and non-ego to let it go, trying to push myself in dangerous situations and celebrating the beauty of diversity.
Materialism & competition
Society is based today on materiality and competition. I was looking for happiness. If we think about what we really need, we will see that it is not what today's world wants to give us. Just think about it for a moment.
Today the economy is made to force so many people to work exhaustingly, to produce mostly useless things; and others are working exhaustingly to be able to buy them. This is what makes the system rich, but does not make people happy. One who is content is a happy man.
In my opinion; we have to realise that this system is based on the growth of human desires, and where there is a desire that is attainable for you, it will always make you feel unhappy. Wanting more and more made my life somewhat miserable, and that was the moment I stopped and looked at my life, realised that I had everything I needed, that I was extremely grateful for what I had, and I could make it even simpler. That's when I became grateful, That's when Surf came into my life.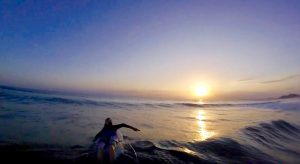 Falling in love
I was never attracted to surfing before. I lived in Australia for four years in front of the ocean watching every morning at sunrise men and women getting ready on the beach with some stretches or yoga moves before jumping in the ocean with their boards and still, I never had the desire to try it, can you imagine? But when those four years were over I went back to Italy. One late summer afternoon I was lying on the beach. Noah, my best friends son,  just throw his surfboard on the beach next to my deck chair. It was aperitif time. This is the unnamed- food time between six and eight in the evening, those apparently meaningless hours that separates the afternoon from the dinner that the Italians had to fill in with an eating and drinking program. The sun was about to go down but it was still high enough to have a swim without the risk of being in the darkness in the middle of the sea by yourself. A voice from the bar encourages everyone screaming: "Shall we have the last swim before sunset?"
I'll take the board & go for a swim by myself.
Those words that spontaneously came out of my mouth changed my life forever. I took the board and I felt really weird as I did not even know how to carry it. I felt a bit stupid imagining how the others could see me in that moment, probably laughing behind my back. The board was quite heavy, I did not expect that. I entered the water and lie on my belly on the board as I had seen it so many times. I started swimming. There were no waves, just little tiny wind waves that today my friends would describe as "ants barrels". Yet it was one of those perfect moments that will remain in my mind forever. Such a magical moment in which a set of perfect variables are called together in the present moment creating perfection.  Had a nice temperature.  I was swimming with my new friend, the board, towards the horizon.
The smell of the salty sea had a different taste that evening. The noise of the water touching the moving board was extremely relaxing, it was the same noise that you would hear on a small boat on a lake. Here I was. My heart opened completely and I said to myself:
I think I want to be a surfer!.
I couldn't think about anything better to do in my future than travel the world and surf and spend time in the ocean. Obviously, I didn't know what I was getting into. I was 37, not very well trained. Or maybe yes, but not for this sport, which I had never thought could be so challenging and frustrating but at the same time the best sensation in the world. That was the beginning of a new adventure that changed my life.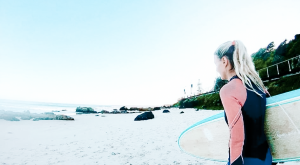 How I travel now!
Now I look for simplicity. That's what surfing taught me. Most of the people who really take surf as their way of life, they really just need two things: waves and a surfboard.
Once I started surfing that became the only thing I would look for: a place that had consistent waves and good wifi. In the beginning, I would travel with my new friends, as when you start surfing, and you take it seriously, it also comes with a new set of friends and new destinations you would have never thought about.
So, Hossegor in France, Somo in the north of Spain and Portugal (anywhere) were my main must go European surf destinations. Then I started to look for surf camps and surf training around the world like Srilanka and Australia. Then there is a point where you have to make that leap of faith when surfing becomes so important that it has to be part of your everyday life. That's when I decided to become a nomad, and not travel anymore for surfing but choose places to live for a longer period of time while working and surfing. Surfing becomes my travelling adventure and focus.
Exploring new waves and new people to share them with. Everything changed completely to the point that investing in a plane ticket when there are no waves waiting for you seemed to be a waste of money. Then there was the next phase, the most beautiful one. This phase starts once you have the waves on your doorsteps every day and you start to re-appreciate everything else as well.
Surfing becomes part of your life and even when you don't surf you still have the ocean inside of you, in every moment. That is when you can bring the ocean and the surf philosophy of simplicity and freshness everywhere you go. That's when you are free and you start the real journey,
Surf Travel suggestions
If you want to start surf travelling and you have never surfed before, or really little, I would start with a surf camp, and if you live in a surfing area do it thereby it makes you feel more confident if you know the place.
Make surf friends. Share waves and free time. Talk about surfing. Go travelling with them.
Once you feel confident, go to a surf travel destination. Places like Sri Lanka, Mexico and Costa Rica are surf-friendly destinations and you can rent boards everywhere so you don't need to own one or travel with it.
"If you want to surf just get into the waves. If you want to become a surfer just live it." Bi. M
Digital Nomad, Yoga Instructor, Entrepreneur Currently in Portugal "maybe!"