10 tips for VAN LIFE as a Digital Nomad
Dreaming of Van Life and living and working on the road? Well, the Founders of Nomad Stays know a thing or two about Van Life and Camping because we did it for four years around Australia before moving to France to Start Nomad Stays. So from some of the things we learned on our life on the road, we thought we would share them with you in conjunction with the Under The Stars vans, as well as introduce you to our new Van Life option at Nomad Stays. In this article, we share ten Plus bonus tips and a few extras, so we hope you find them useful.

Having the ability to trial Van Life is valuable and definitely worth doing if you are thinking of doing it full-time. Because it may or may not be something, you can do for long periods of time. It definitely takes time to adjust.
Van Life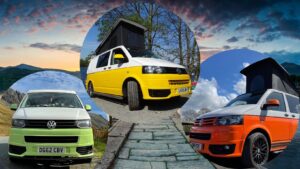 Now Nomad Stays is on a mission to make working from anywhere easy and accessible and recently teamed up with Under The Stars Campers to offer you this unique experience of living on the road for a month or two. This will give you the freedom to try out your van life for a month before making any rash decisions about buying or perhaps you just want to try something new with a bit more flexibility. So on that point, we have three beautiful VW Vans we would like to introduce you to!
They are here to give you a new experience of a lifetime and the outdoor life of sleeping under the stars van style. The team at Under The Stars Vans also have loads of experience with van life, having taken their own trips far and wide for climbing adventures, hiking, and just exploring more.
The team has picked up some tips and tricks along the way, so here are 10 tips to help you have an awesome campervan experience, from the practicalities to the fun stuff.
#1 Wi-fi Hot Spots & tech tips
Firstly let's address Hot spots for Wi-Fi before we go into all the other tips, I have added a link of where to find wifi for you here.  Remember, as a digital nomad, you need to be wifi ready, so when you travelling in a van, you need to have your own wifi, so get that sorted so you can tether off your phone. The other thing you can do is to find coworking spaces around that you can use for daily or weekly. Free WiFi Zones are everywhere, and most cafes and restaurants have it too.
Be mindful of having a VPN which is not free but lots of suppliers too; if you don't know what that is, do your research because it's a standard safety and security, access to Geo-blocked websites and masking your location (great for NetFlix) for those who work online as freelancers remote workers and entrepreneurs.
The unfortunate part about travelling with tech is all the Extension Cords, battery chargers, converters, devices and different chargers that go with it your need to be a bit organised.
Sim cards you can get from most Tabac stores or mobile provider stores; it's always good to have a dual sim smartphone if possible.
TOP TECH TIP from the founder of Nomad Stays – Mark Phillips;
Store as much as possible in the cloud so that if any equipment gets stolen, you have backups.
#2 Safety 
On any type of trip, safety should come first – and campervan holidays are no exception.
Make sure everyone knows to avoid the gas and the cooker when they're not using it; pets and people need to be strapped in when you're on the move, and always let a family member or friend know where you're staying in case of emergency.
Always bring a first aid kit, any medication you might need, a torch, blankets, details of a vehicle breakdown company and your travel insurance details.

#3 Comfort 
After safety, comfort is the most important part of having an excellent campervanning experience. Blankets, clean bedding, pillows, heaters, hot water bottles, fans, chargers and comfortable clothing are all absolutely essential for campervan holidays.

#4 Meal plans & COoking
Cooking in a campervan can be great fun. It's an opportunity to get creative and try new meals. When you're on the road, it can be inconvenient to keep popping into the shops, so try meal planning in advance.
As for cooking in the van, we recommend not cooking in the van, but outside if you can help it. Because the smell can stay in the van, and it's difficult to get some smells out. So try travelling with a portable two-burner. They are very cheap to purchase or use park BBQs as you go. Be inspired by the locations and culture and try local produce from the local markets, and food discover food that is in season or food that the region is famous for. 

#5 Think about entertainment
When you wind down in the evenings, you'll need entertainment. You'll know best what you and your party will enjoy, but popular types of entertainment for campervanning are books, games, bikes, DVDs and musical instruments. It's incredibly fun and appropriate for children and adults (even grumpy teenagers love it).

#6 Plan But be Flexible
It sounds obvious, but to make the most of your campervan experience, you should plan your trip – even loosely. There are so many useful websites and tools that can help you plan your holiday. TripAdvisor is a wonderful website that can help you find the best activities and sights at your destination(s). Putting together an itinerary will help you stay on track to see everything you want to see. Also, keep an eye on weather changes, events, and restrictions.


#7 Get travel insurance
We know, we know, admin is the last thing you want to think about when you're planning an exciting trip. But getting travel insurance and holiday cancellation insurance is essential. Some visa cards have travel insurance included, so check your visa card for what you are covered for. 

#8 Choose the right campervan.
It's all well and good planning and packing perfectly for a nomad van life, but if you don't have the right campervan, it can all fall apart! When you're hiring a campervan, make sure it has enough space for everyone in your party and is appropriate for the roads and terrain you'll be driving through.

#9 Packing
Packing mindfully is imperative for having a great trip. It's important to not overpack, though, because space is at a premium. Pack towels and use a travel bag that is easily accessible and not so much. Remember there are shops everywhere you if you need to you can buy something that you forgot or lost so pack highly knowing that you will probably find something you want to buy on the way. I have a rule. If I buy something, I need to give something away, so second-hand bric-a-brac shops are very handy for buying cooking utensils or things you might need and for giving away stuff you don't use. Don't carry stuff for stuff's sake; keep it simple. The lighter you are, the freer you feel is my experience.

#10 Clean Camping
Delegate chores and recycle as you go. One thing people often forget about campervan trips is that… you still need to do chores! And in such a small space, the mess can build up quite quickly. We've found that the best way to handle chores is to allocate them to every travelling member. Unless there's someone in your campervan that loves doing chores (if there is, you've struck gold!), then giving everyone a specific task to do throughout the trip is a really good way to avoid tension. Be mindful of recycling bins and recycling as you go. Be a mindful traveller and respect nature; leave a place better than you found it.

Bonus: Travelling with pets
When travelling with pets is fun, but you also need to take a few things into account for your own and their comfort. Remember to stop and let them run around a bit and do their business, check their pee-mail (hee hee so they can leave pee-mail too!) and have a run. Be sure to clean up after them in public areas. Air out the Van. Campervans have quite small interiors, so it can get really warm inside, especially in the summer. To make them comfortable, air them out daily by opening the doors and windows to keep the inside cool and fresh. This also helps to remove any smells from cooking, people and pets.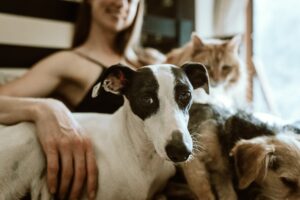 Where to Next?
Are you planning a UK  Van Life adventure? Take a look at what's on offer for van life to learn more about our van life hire in Lancashire UK with Nomad Stays.
We hope you found this useful, and if you need any help planning your nomadic Van Life, you know where we are! You can now book your nomad Van Life today at Nomad Stays, thanks to our partnership with, the Under The Stars Campervan.
STAY AWESOME & ADVENTURE ON!