15 Top Countries for Nomads – Part 2
Imagine travelling the world while being a remote working, absorbing a new culture, learning new languages and network with other like-minded adventurous nomads.
Imagine spending a year travelling in the following five great locations because now you can work from anywhere, of course depending on visas and COVID 19 people are still out there taking there time to explore. You can stay in these places for one week or three months less than the rent you pay each month.
Slow travelling and seeing parts of your own country or other countries is an awesome way to broaden your mind and your networks.
What is slow travel?
Slow means simply slow down and experience rather than race about the world and tick all the countries off your list without understanding the true culture and its people.
Currently, I am a co-founder of two businesses with my partner while we slow travel around the world. We have always looked for opportunity's to go where our customer flows and yes I agree, COVID 19 slowed us down but for the better.
Being in one place for 2-3 months at a time helps to gather perspective and has been for the best. We have been six months in one spot, that is a bit of a record for us!
Exploring locally, kayaking and hiking and the occasional pop into Italy since it's only an hour away and Switzerland  an hour across the boarder has been great.  We are making the most of it.
The trouble is when you start travelling full time as we have for the last five years you tend to travel too fast and it's hard to slow down because you become overly curious and want to clock up the countries.
With the following, countries, I mention here we are making it easy for you to just go. You can spend one month at a time or perhaps 2-3 months at a time and really enjoy the experience. Nomad Stays was created for you to explore more of the world while building a business or remote work from anywhere.
#6 Montenegro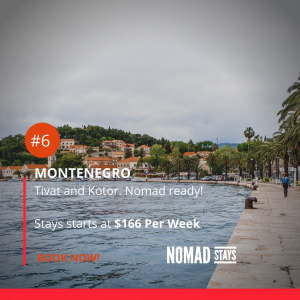 Adventure
Montenegro offers terrific opportunities for exciting adventure, activities and outdoor activities.
They come in four main flavours: Ocean, Airborn, coastal and mountain adventures. Choose from; hike&trek tours and biking on both regions, white water rafting, kayaking on Boka Bay or Montenegro rivers and lakes, horse riding, fishing, diving, sailing, big game fishing, ATV safari, jeep safari, rock climbing, cycling, photo and sightseeing tour, sailing, rafting, paragliding, kite-surfing, speleology (study of caves), skiing, bird watching, canyoning, hiking, mountaineering and many more… Active, relaxed or somewhere in between. Montenegro has it all.
Adventure activity for nomads haven and is a full range can be a relaxing experience! They offer more than just the usual experience, they have developed extensive varity, from a range of wild to tame activities. 
If adrenalin is your fuel and natures your pasifier than you can enjoy it all – you can discover and challenge yourself with all Montenegro offers .
Active stays
Imagine 2 month in Montenegro, stayin for as little as USD166 per week and enjoy the beauty of Montenegro stay one month in Kotor Bay and one month in Tivat.
Kotor is a fortified town on Montenegro's Adriatic coast, in a bay near the limestone cliffs of Mt. Lovćen. One of 2 tiny islands off the ancient town of Perast & Characterized by winding streets and squares, its medieval old town has several Romanesque churches, including Kotor Cathedral. It's has a strong maritime history which explores local seafaring history. Our nomad stays in Kotor start at very reasonable prices for the month USD 554 per month.
Safety
OVERALL RISK : LOW. Overall, Montenegro is a safe country to visit. Its crime rate is fairly low and as a tourist, you should only be worried about petty theft in destinations frequented by tourists. Otherwise, Montenegrin people are very warm and friendly and always welcoming.
Coworking & Wifi
There are a number of coworking spaces around Montenegro however your accommodation also has comfortable places to work from with WiFi.
WiFi in Montenegro is in most airports, railway stations, public places, libraries and also free WiFi hotspots. Wiman supplies a big portion in Montenegro.
#7 Georgia
This small country is located in a strategic trading area at the crossroads of Asia and Europe, and is a very attractive destination to live, do business, or both. Georgia is a former Soviet Republic, located on the border between Europe and Asia, on the east cost of the Black Sea. The cost of living is considerably low in Georgia, the process for obtaining a residence permit is simple and achievable, and it can be considered an entrepreneur-friendly country due to its reduced tax burden and ease of starting a business.
Adventure
Georgia has something to offer to those who love extreme sports and risky adventures. Paragliding, Ballooning, 4×4 drives in the most unbelievable mountain tops, if you are an adventure seeker this is your place.
Active stays
A hostel-style stay that is very reasonable at only USD 232 a month you can enjoy a wonderful style of community and coworking all in the same location. Tbilisi is an innovative place you will have no problems finding your niche in this incredible place. The country ozes history so there is so much to discover and explore so spending a few months there will not be enough.
Safety
Georgia is safe for nomads and pleasant place to live for a few months. Even though cases of petty thefts, robbery, and mugging are reported everywhere in Europe, the crime rate of this country is one of the lowest in Europe, making Georgia a safe country to visit at any time of the year.
Coworking & Wifi
According to Nomadlist, there are up to 80 active coworking spaces with WiFi. However not all coworking spaces will be your style so you have plenty of choices in Tbilisi to find the one that suits you best for your needs, community and events.
As for Wifi, it is readily available in all the central areas of the city. The municipal network is extremely convenient for travellers, as it helps you to stay connected without any extra costs. There are rental wifi models from companies like xoxowifi but it pays to do some research on what you require WiFi wise.
#8 Uganda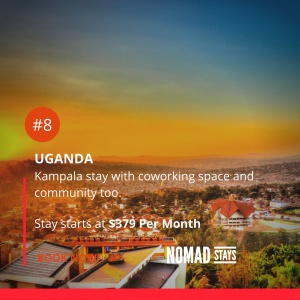 Adventure
No need to explain any adventure here just being there is a total adventure what more would you need.
Active Stays
We have a perfect coworking and colving accommodation with community what more could you ask! it's all there for you not to mention all the incredible experiences and people you will meet, absorbing the culture and exploring the country.
Safety
Just like any other country. Crime threats, like all other countries in the world, are present but can be avoided when you observe caution. Uganda is a very safe country, but opportunistic crimes such as petty theft, credit card fraud and home robbery do occur. 
Coworking & wifi
Kampala Uganda is full of Coworking places and according to coworker.com there is a population of 38,319,241 souls, with only 31.1% are connected to the Internet with a mere 5.7% getting social media. There is much excitment about African countries going digital, but one would argue they are the most inovative in the world of digital through simply having a need.
Africa being a lead in Mobile banking before most of the western world went to mobile.  There are plenty of keen minds but the reality is different especially in countries such as Uganda where there is not so much a mature startup scene like in South Africa but one that has loads of promis and litterally the hunger and desire to make a difference.
#9 Peru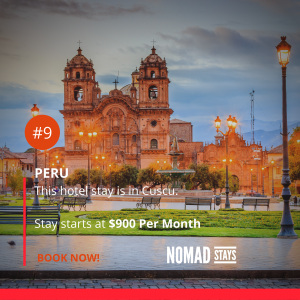 Adventure
Each year, more and more travellers come to South America for adventure and beautiful natural scenarios.
Peru is one of the countries who receive most of the interest due to its diverse landscapes and ecosystems that provide different adventure activities and experiences especially for those looking for a nature burst and those seeking adventure.
Traveling in Peru is an amazing experience, but if you crave some active experiences, you'll find them in abundance.
Active stays
Our stay in Peru is a nomad friendly stay with all the needs of a longer stay while you absorb this ancient capital of the Inca Empire, Cusco known for the launching place to Machu Picchu and the Inca Trail. Full of archaeological remains and Spanish colonial architecture this amazing mountain city will take weeks to explore.
Safety
Cusco is not so much a dangerous city, but opportunistic crimes like muggings and thefts do occur so it's recommended you stay on your guard. One of the dangerous areas where you should not wander alone at night is the Plaza de Armas. .Violent crime is not very common in Cusco, but it is important to be extra caution in Bélen, Puente Santiago, and Santiago district.
Coworking
You might be supprised to know that coworking spaces are in abundance in Cusco Peru so you have plenty of time to explore them all while you explore the culture while remte working, hiking or sime other grand adventures.
#10 Ireland
Adventure
Ireland has so much to offer in terms of adventures and a definate stop for those who love a good adrenilin rush there is much to discover for such a tiny island. There are so many incredible outdoor activities on offer such as kitesurfing, climbing, hiking or get into the tradition of jumping of the Dun Laoghaire in Dublin for getting into the christmas spirit, there are so many great places and adventures to be had that it can be quite overwhelming. No matter what the people will always have a good laugh and a pint with you and make you feel welcome!
Active Stays
Just an hour out of Dublin there is the small town of Drogheda that sits on a river that goes through the town. Our nomad stay here is walking distance from the train walking distance to two innovation centres with coworking available at the Mill. The stay is like a coliving stay and the community is like living in a busy house hold with great people and cooperative family feel about he place. You will always feel welcome.
Safety
Compared to other European countries Ireland is very safe, crime is relatively low and the crime that does happen is mostly fueled by alcohol, so you should avoid roaming along Ireland's streets late at night however in saying that I did it frequently and never had any issues.
Coworking
Two innovation centres in Drogheda and lots happening in terms of events for startups and innovation, The Mill nterprise centre is a great place to meet other startups and learn more about here innovation programs they have going.
#Workfromanywhere
Where in next?
We have new staying coming on board all the time and out latest is Greece. So check out our latest stays! If you are not a member alreasy be sure to sign up to see our latest deals!