The Best Warm Places for Digital Nomads This Winter
Are you a digital nomad traveler who gets prefers the at the thought of sand, nature and warm weather rather than Snow, cold and freezing temperatures? Do you long for sunny days, happy, and uplifting weather? 
Digital nomads want to work location independently, connect and have other activities that recharges feeds their passion. So, if you want to escape those winter blues, there are some amazing off the beaten track destinations that you might not have thought of, will take you to warm, sunny shiny days with better temperatures to easy your work, rest play lifestyle. Here's a list of destinations that you can escape to!



A man cannot dicover new Oceans unless he has the courage to lose sight of the shore – Andre gide
So why not head for island life and brave losing sign of the mainland and head for Koh Kood. For those who enjoy beaches, jungles, and waterfalls, Koh Kood, which is also frequently spelled Koh Kut, is a fantastic island to visit and is perhaps the greatest in Thailand. Additionally, the roads are essentially empty, making it the perfect island to explore on a scooter.
Similar to Koh Mak, the island doesn't have a vehicle ferry. Expect it to remain calm even during high season in addition to the beautiful surroundings and crystal-clear water.

The weather in Thailand in December is cool and dry.
The average daily maximum is 32°C (89°F) and the average daily minimum is 24°C (75°F). There is only about 1 rainy day during the whole month in Bangkok, but it is much rainier in the south, and much cooler further north.
In 2014, The Guardian named it 'Thailand's Last Unspoilt Island'

There are no towns on the island because the population there is just about 2,500. However, there are four main urbanized zones. These are the fishing settlements in northeastern Ao Salat and south-eastern Ao Noi. On the west shore, in the Klong Hin Dam region, are the hospital, police, and local government buildings. The island's east is inhabited and inaccessible. A few waterfalls that are all free to visit and wonderful for a refreshing dip are scattered across the island's center.
There are currently more than 50 places to stay, and the principal beaches are dispersed around the island's west and south shores.

WHere to stay?
One of the best places that you can stay while here is Pink Kangaroo Cafe & Bungalows, which is run by an Aussie-Thai couple. If you're after a serene stay or a Zen working/living space – this location is ideal!

Tap here to know more about this amazing stay!
Bali is more that a place…

It's a mood, it's magical

It's a tropical state of mind 
It is undoubtedly the most well-known tourist destination in Bali, largely because of the expansive, long Kuta Beach, which is a surfer's paradise thanks to its immaculate white sand and turquoise water and good wave, not to forget the good vibes! Prior to becoming a popular tourist destination, it was a little fishing community with a low population. Participate in enjoyable family activities like swimming, tanning, and boating on the beach. While basking in the sun, if pushy vendors start to annoy you, travel farther north down the beach to Legian, Seminyak, or Petitenget for a calmer atmosphere.

There are times when it looks like tourism is suffocating Balinese culture, but this is not the case in Canggu, where you may wander through historic rice terraces, purchase freshly caught lobster, and buy handcrafted items made by regional artists.
Be mindful of the weather and that the rainy season is in full swing across Bali throughout December, although it is not constant and intense bouts of rain are punctuated with hours of sunshine. Average temperatures remain around 27°C. It can be windy around the south coast beaches of Jimbaran, Sanur & Seminyak and sea conditions can be rough. The sea in Bali is warm enough to swim in throughout the year: the water temperature ranges from 27 °C (81 °F) between July and September, to 29 °C (84 °F) between November and May. In February, the weather in Bali is usually very hot and muggy. The average temperature is of 27.9 °C (82 °F), with a minimum of 24.8 °C (76.7 °F) and a maximum of 31 °C (87.9 °F). On the coldest nights of the month, the temperature usually drops to around 23 °C (73 °F).


Where to stay:
Ohana Retreat Bali is probably the best stay experience you can have while here at North Kuta.

The name, Ohana Retreat Bali, conveys the distinctive way they cater to their guests: Ohana is Hawaiian meaning "extended family." You'll discover the informal mom-and-pop charm, Indonesian generosity, and modern conveniences. Everything you require, including stores, dining establishments, and pubs, is nearby.
Quote above was from the #balifixblog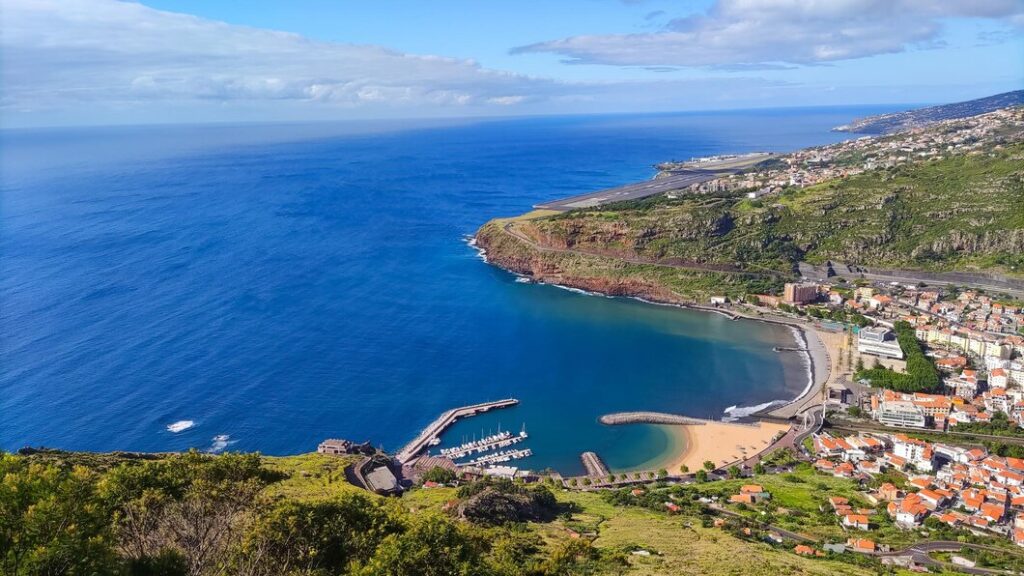 Wines from the nineteenth and even the eighteenth centuries still retain an ethereal, youthful gloss, even after spending what is, in wine terms, an aeon in cask and bottle. Having gone through this extreme and often extensive ageing process, madeira is virtually indestructible. Once the cork is removed, the wine comes to no harm, even if the bottle is left on ullage for months, even for years on end. If ever there was a wine to take away with you to a desert island, this is it."
-Richard Mayson
With it's stunning wines, step but spectacular views, beating with natures heart beat of the waves smashing of this magnificent rock in the middle of the North Atlantic Ocean Madeira Island takes your breath away at first sight! A Portuguese Island that is home to the first digital nomad village, is ideal for those looking for a calm and sunny winter. This island has sunshine and a cool, refreshing atmosphere for individuals who don't necessarily want to feel sticky and sweaty, even if it isn't considered tropical throughout the winter.
The island offers fun, peace, and a fantastic digital nomad community in addition to being full of stunning natural beauty, lush foliage, and amazing beaches. You'll be really productive and have the chance to meet other like-minded people.
Additionally, with a digital nomad visa, you are permitted to reside in Portugal (including Madeira) for up to two years.
Discover this great travel Quote above was brought to you by The Fiftyplus Nomad. 
Where to Stay?
Here are the stays where you can live and work remotely from Madeira Island. Tap to check it out!
I learned that courage was not the absense of fear, But the triump over it. The brave man is not he who does not feel afraid, but he who conquers that fear
This great quote above was by the famous leader Neilson Mandela, an a man who leaves his heart and soul in Sth Africa. And another great reason to explore South Africa is to experience it first hand and follow the trails of this mans great triumphs to inspire you on your own journey.
Now days you can set up your digital nomad workplace in Cape Town, South Africa, this winter with plenty of coworking places, waves to conquer. Cape Town is the southernmost point of Africa. It is the ideal spot for individuals who want to spend a lot of time outdoors because of its temperate and pleasant weather throughout the year.
Traveling remote workers are warmly welcomed in this sophisticated, thriving metropolis. Cape Town is quickly developing into a destination for digital nomads as the wifi is reliable and coworking spaces and cafes become increasingly well-known and accessible.
Climate. In December Cape Town experiences its hottest weather with daytime temperatures often rising into the mid 30's. Expect hot and cloudless days, long daytime hours, warm nights and little to no rain. December sees the occasional very windy day.
While residing in Cape Town, you can explore the city's significant history, go to museums, watch penguins playing on the beach, and even take the risk of mountain climbing. This odd city is also home to a thriving ex-pat and digital nomad scene, making it a fantastic place to expand your network and meet new people.
Where to stay:
Discover more nomad ready places  to stay here, for surf, community and adventure. 
Johann Wolfgang von Goethe (1749 – 1832)
To have seen Italy without having seen Sicily is not to have seen Italy at all, for Sicily is the clue to everything."
His intention of escaping from his life in Germany, Johann Wolfgang von Goethe visited the magical island in 1787 on a 2-year trip through Italy. He declared his affection for Sicily in his private diaries. Interestingly the place inspired him so much it was seen to be some of the best works of Goethe written and inspirationally created in Sicily. We discovered this extract from a very cool blog called Travel Geekery. Read more here from the travel Geekery.
Like Johann we all need a little escaping but it might be simply escaping the weather and taking in a new culture for you so see more places to escape to in Sicily and Italy.
Palermo, Sicily Italy
Italy is not just a beautiful spot to spend the summer; it can also be a great place to escape the harsh northern winters, particularly if you travel to Palermo on the island of Sicily.
Sicily offers digital nomads warm weather, friendly locals, and some of the best cuisine they've ever had. The area now has even better internet than it had a few years ago because of new digitization, and more businesses are encouraging remote employees and digital nomads to the island.
Even though you won't be swimming in the water during the winter, the temperature here is still pleasant and great compared to other parts of Europe.
We hope you liked our list of the Best Warm Places for Digital Nomads This Winter. If you want to explore the world as a digital nomad, tap here!
Sicily is a region in Italy. Many people wonder what the weather conditions are in December in Sicily. Is this month a good time to go to Sicily?
In December the average maximum daytime temperatures are moderate and range from 15°C (59°F) in Pantelleria to 17°C (63°F) in Marsala.
Where to next?
Maybe think about Mexico December in Mexico is warm in the south and cold in the north. You can enjoy warm beach weather in the Yucatán Peninsula and even see some snow in the far north. In Mexico City and San Cristobal, it is mainly cold during the night and in the evenings, with sunshine and warmer weather during the day.
Check out Nomad Stays and join our community. Make sure you become a member at Nomad Stays so that you can get the latest deals as they fly in.
Have you got an adventurous digial nomad story you want to share with us? We want to hear from you. Ping us a note on Instagram and remember to give us a follow so you can see our travel guides and new options for stay experiences. Discover a #lifeunlimited